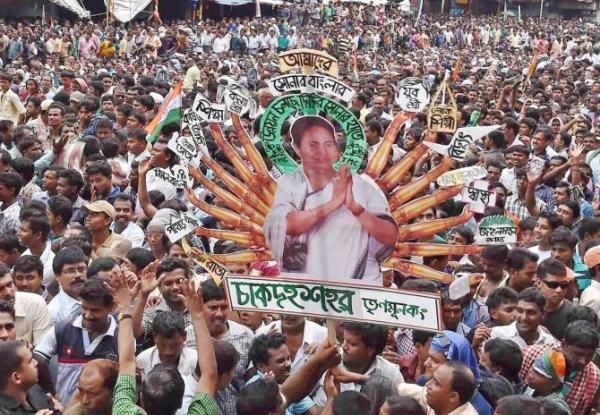 Opposition parties slammed West Bengal Chief Minister Mamata Banerjee on 31 March, holding her responsible for the collapse of the under-construction bridge in Kolkata's Girish Nagar area. At least ten people died in the collapse of the bridge on Vivekananda road and eyewitnesses have reported that scores are stuck under the debris.
Experts have pointed out that the bridge was constructed with low-quality material and have alleged that the delay in construction led to the collapse. The flyover project was inaugurated in 2007 with an 18-month deadline. The project was scheduled to be completed in 2009 with an initial budget of Rs 164 crore.
Mamta Banerjee canceled her rallies in poll-bound West Bengal to rush to the spot where more than 150 are feared stuck.
Launching a blistering attack, Bharatiya Janata Party (BJP) leader Kailash Vijayvargiya held Mamata responsible for the incident. "We want an immediate action against those responsible," he said.
CPI(M) leader Mohd Salim told India Today that the leaders of the ruling Trinamool Congress were extorting money from the construction company. BJP leader Babul Surpiyo also slammed the TMC government for the tragic accident.
The assembly polls in West Bengal are scheduled for April-May and the incident may affect the chances of the Mamata Banrejee-led Trinamool Congress government's attempt to retain power in the state.
A recent news channel pre-polls survey has predicted that Mamata will be able to retain power and will form government with 178-seats in the 295-member state assembly. The poll predicted that the TMC would win around 45 per cent votes - higher that its performance in the 2011 polls, where the party garnered 39 per cent votes.