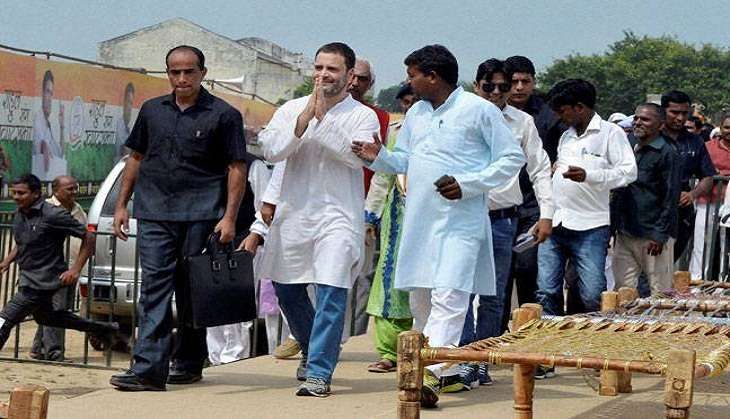 Congress vice president Rahul Gandhi's Khaat Sabha campaign with UP farmers took a hilarious turn on 6 September, when all the local supporters began decamping with khaats from the venue.
Unprecedented ruckus and commotion followed Rahul Gandhi's speech at the ground in Deoria, where the rally was held, after which people started fighting over the cots.
Twitter, as usual, exploded and 'khat', 'Khatpecharche', "replacemovienamewithkhaat" began trending in no time. Twitterati came up with some amusing memes and went on to be supremely creative at coming up with movie names.
The biggest #Khaat scam 😄
Ye khat na milegi Dobara 😄#ReplaceMovieNameswithKhaat @OfficeOfRG pic.twitter.com/9EbpSMmAxL

— Rakesh (@rakutiwary) September 6, 2016
One morning, I woke up at night on a Khat.#KhatKaKhatmal

— Yashwant Deshmukh (@YRDeshmukh) September 6, 2016
#KhatSabha#Khatfight#KhatKaKhatmal
हो गई खटिया खड़ी #KhatiyaKhadi 😂😂 https://t.co/2G4rqnPhnq

— Rohtash Churnia (@the16x2is8) September 7, 2016
#किसानों_ka_Rahul
khat par charcha
khat par MUJRA
khat par Palantod Paan
khat par Dhamal
khat par Sukanya Balatkari

— ऑफिस ऑफ पप्पू (@Ofice0fRG) September 7, 2016
Can we have a recliner per charcha in Mumbai?
Khat is too big for the small flats which we have.#KhatPeCharcha

— Suresh Nair 🐦 (@snsuresh) September 7, 2016
PRINCE OF KHAAT #ReplaceMovieNameswithKhaat pic.twitter.com/M1EDLJb69y

— Dipendra Dipzo Khati (@DipendraDipzo) September 6, 2016
Andheri raat me khat tere hath me #ReplaceMovieNameswithKhaat

— Mystic Lipstick (@Isoumyas) September 6, 2016
"Khaat Donor" Starring RaGa.#ReplaceMovieNameswithKhaat pic.twitter.com/KRrPDDvJXR

— Sickcular Fiberal (@SickularLibtard) September 6, 2016
#ReplaceMovieNameswithKhaat Flying Khaat

— Tushar (@tushar) September 7, 2016
Despite the fact that his first day ended on a sour note as farmers were seen clamouring for the Khaats at the end of the interaction, Gandhi will continue with his Khaat Sabha campaign today to woo Gorakhpur farmers.
--With ANI inputs