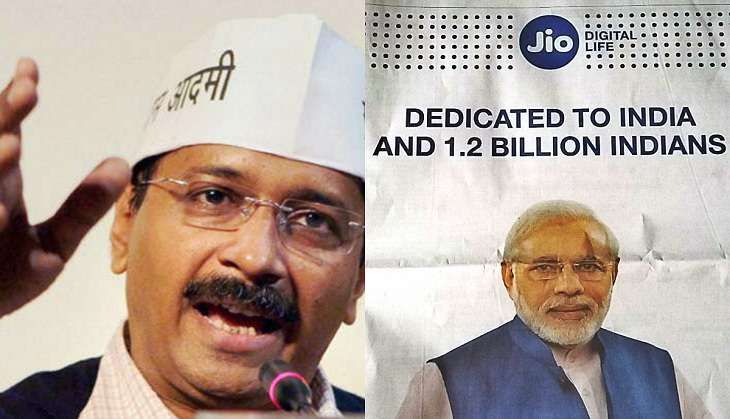 Delhi Chief Minister Arvind Kejriwal has lashed out at Prime Minister Narendra Modi for being the face of Reliance Jio services, launched by Mukesh Ambani on 1 September.On 2 September, Kejriwal mockingly dubbed PM Modi as "Mr Reliance" after his photo appeared in the company\'s advertisements and accused him of "openly endorsing" its latest Jio services.Kejriwal\'s caustic jibe at Modi, including an advice to him to "keep modelling for Reliance", came on a day that the Mukesh Ambandi-led group splashed advertisements featuring the face of the Prime Minister across newspapers.
मोदी जी। आप रिलायंस के ऐड में मॉडलिंग करते रहना। देश की सारी लेबर मिलके आपको 2019 में सबक़ सिखाएगी

— Arvind Kejriwal (@ArvindKejriwal) September 2, 2016
"Modiji you keep modelling for Reliance ads. Labourers across the country will teach you a lesson in 2019. PM as Mr Reliance. Any more proof required to prove that Modiji is in Ambani's pockets. PM of India openly endorses Reliance product," Kejriwal said in a series of tweets.
Reliance, through its ads, dedicated the Jio 4G service to the Modi government's flagship Digital India project.
Also read - Good times ahead: Reliance Jio sets aside Rs 5,000 crore-fund for Indian startups
During its launch, Ambani had said "Jio will fulfil Digital India dream of Prime Minister Narendra Modi". He had also called Jio a "revolutionary" step to realise India's digital ambitions.
--PTI