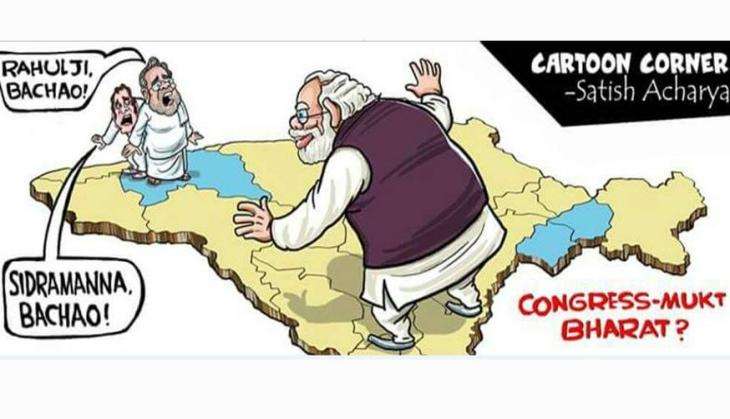 Popular cartoonist Satish Acharya's cartoon hoarding, which mocked the Congress party, was recently removed by the Municipality of Kundapura in Udupi district of Karnataka.
The hoarding showed Congress vice president Rahul Gandhi hiding behind Chief Minister of Karnataka Siddaramaiah to escape from Prime Minister Narendra Modi. PM Modi can be seen rushing towards the Gandhi scion.
While Satish Acharya has blamed Congress for the action, the Kundapura municipality said that the hoardings and billboards were only removed to beautify the city, according to a News 18 report.
"I draw cartoons on all political parties. I use cartoon corner hoarding to display some of them. In the past nobody troubled me. After I had put this cartoon up, a local Congress leader called me up to suggest that I should remove it as it is offensive," News18.com quoted Satish Acharya.
"The very next day, Kundapura municipality removed it on the pretext of clearing the city of billboards. The Congress should be worried about the challenges before the party. It should not be afraid of a harmless cartoon," he added.
On the other hand, Dr G Parameshwara Karnataka Congress president denied knowing anything about the matter, reported News 18.