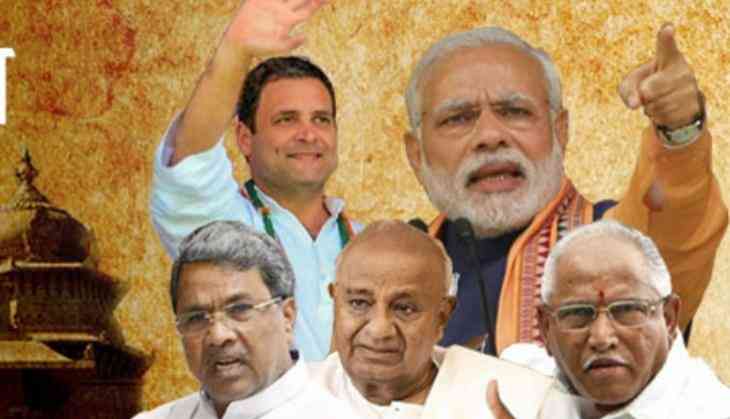 The poll results of the Karnataka assembly election that is throwing a fractured mandate in the state and all eyes stuck on JD(S) as to whom the party choose as its king, while Congress and BJP eyes on Governor Vajubhai Vala, who will decide whom to invite to form the next government. However, the BJP has emerged as a single largest party, fell short of halfway mark of 112, but expects to get the first shot at government formation.

Both the Party, JD(S) state Chief H D Kumaraswamy and BJP's chief ministerial candidate B S Yeddyurappa yesterday met the Governor Jajubhai Vala, to stake claim to form the government in Karnataka. Speaking to media ahead of BJP legislature party meeting in Bengaluru on Wednesday, Yeddyurappa said he will meet Governor Vajubhai Vala later in the day.
"During the legislature party meeting, the leader will be elected. From there we will go to Raj Bhavan immediately. We will claim to form the govt. Most probably we will ask the Governor to give us time tomorrow," he said.
Well, Congress in a move to extend its tenure is ready to give 'unconditional' support to HD Deve Gowda's JDS. Following which Gowda says, it should be invited first on the ground that the post-poll combine has 117 seats, which is well above the 112 needed to form the government.
Congress spokesperson Randeep Surjewala said the governor is bound under the Constitution and legal provisions to invite their (JDS-Congress) coalition to form the government in the state.
"We expect Karnataka governor to invite JD (S)-Cong coalition which has a clear majority to form a government in the state. As per constitutional and legal provisions, the governor has no option but to invite the coalition," he said.
The counting of 222 constituency seats has been completed. BJP bagged 104 seats while, Congress 78 and JDS 41. The battle for Karnataka is on and it will be interesting to see to wins the race.
Also read: Engagement of Mukesh Ambani's son, Anant with Radhika Merchant was just a rumour; no wedding bells at Ambani's house!