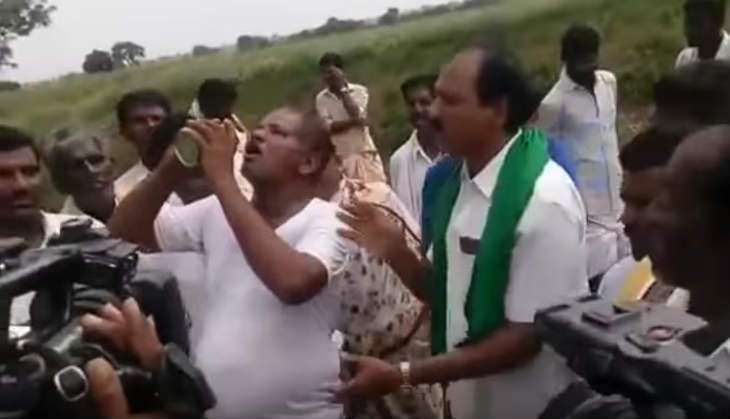 In what can only be defined as a Peepli Live moment captured in real life, television crew reporters and a regional leader made a farmer enact a failed suicide attempt to get more TRPs.
In the video, which has now gone viral, a farmer is trying to consume pesticide from a can while local farmer leaders are trying to stop him, while a camera crew is filming the entire incident. Unhappy with first shot, the crew asks for a retake of the entire episode. Again, the farmer acts out the scenes, as local politicians jump in to stop him from consuming the pesticide. A few more retakes were filmed to procure the perfect scene.
The incident took place in Korlagundi village of the Ballari taluk on 12 October, when 60-year-old Kurubara Kumarappawas was asked by the media and local leaders to fake the suicide. According to the Hindu, the farmer was trying to destroy his chilli crop spread across six acres of land, which was suffering due to paucity of water. He was also trying to sow an alternative rabi crop. This is when Karnataka Rajya Raitha Sangha and Hasiru Sene district president Darur Purushottham Goudgot reached the spot with a crew and tried to film the event.
The video has received flak from several quarters, with some calling it the new 'low' of journalism. The state has witnessed rising incidents of farmer suicides in the last year.