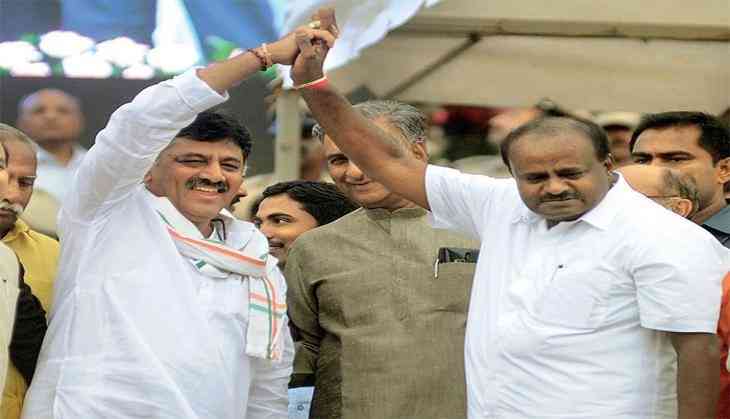 H D Kumaraswamy and D K Shivkumar
The Karnataka By-poll results are declared and the Congress-JDS alliance have won big by winning 4 out of 5 seats and BJP had to content with only 1.
The mandate is being seen as a semi-final for the upcoming Lok Sabha election in 2019 and the Karnataka has 28 Lok Sabha seats, out of which 17 were won by the BJP.
The Congress-JDS alliance won in Bellary, Mandya, Ramanagaramb and Jamkhandi, whereas BJP has won only one seat Shimoga Lok Sabha seat.
Karnataka Chief Minister H D Kumaraswamy has congratulated the leaders of the Congress and JDS and has warned the BJP for the upcoming 2019 polls, where former will be playing a significant role as the alliance partner.
H D Kumaraswamy said, "I congratulate Congress leaders in the state & at the Centre. I also congratulate JDS state leaders & workers who worked towards this win. BJP calls JDS-Congress coalition 'Apavitra Maitri', today that contention has been nullified," adding that, "This election was the first step. There are 28 LS seats, we'll work with Congress to win all of them, that is our goal.This is not an empty boast just because we have won today. This is the confidence of people in us. This win is not making us arrogant."
Kumaraswamy further said that, "I never said do or don't celebrate Tipu Jayanti. All I had said was there are many communities in the country, people want to celebrate Jayantis of their leaders. If they (BJP) don't like to be part of the celebrations, there is no need to participate."
Also read: Karnataka Bypolls results: Diwali Bonus for Congress-JDS alliance, wins 4 out of 5 seats in By-polls, including Bellary; BJP gets one
BJP is offering around Rs 25-30 Crore to some Congress and JD(S) MLAs but they will never be able to poach them: JD(S) leader & Karnataka CM HD Kumaraswamy pic.twitter.com/rnloZesraS

— ANI (@ANI) November 6, 2018
I never said do or don't celebrate Tipu Jayanti. All I had said was there are many communities in the country, people want to celebrate Jayantis of their leaders. If they (BJP) don't like to be part of the celebrations, there is no need to participate: Karnataka CM HD Kumaraswamy pic.twitter.com/5pzTCno7V4

— ANI (@ANI) November 6, 2018