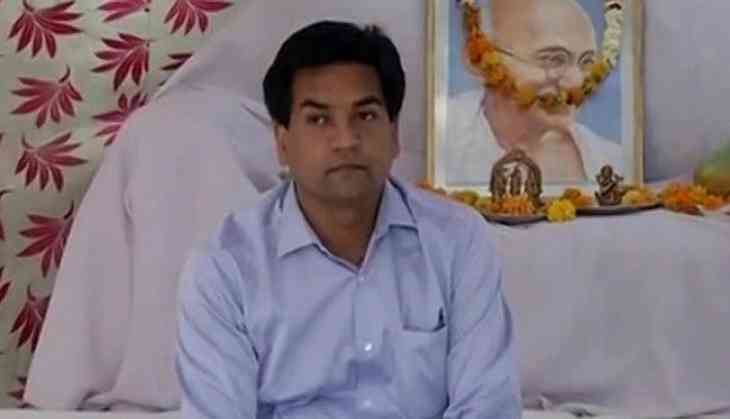 Kapil Mishra to visit ACB office today
Suspended Aam Aadmi Party (AAP) MLA Kapil Mishra, who is on a hunger strike for the second consecutive day today, will visit the Anti-Corruption Bureau (ACB) office to disclose more details about the tanker scam.
'I will go to the ACB at 12 noon today and divulge more details in the water tanker scam,' Mishra said.
Earlier, Mishra submitted documents related to the tanker scam to the ACB, while saying that he also apprised the agency about the misuse of the money by the Delhi government.
Mishra further alleged that Ankit Bharadwaj, who attacked him on Wednesday attacker was a Mohalla Clinic worker.
'Why Sanjay Singh said that the attackers were worker of the Bharatiya Janata Party (BJP). He was a worker of the AAP's Mohalla Clinic,' Mishra said.
AAP leader Sanjay Singh yesterday claimed that attacker was an executive member of the Bharatiya Janata Yuva Morcha (BJYM).
'Ankit Bharadwaj is the executive member of the Bharatiya Janata Yuva Morcha. Even the police have said the same. His photos are there with BJP's Pawan Sharma, Satish Upadhyay. Behind this is a big conspiracy by the BJP. He wants to defame the AAP. There has been a continuous effort by the BJP to act against AAP,' Singh told ANI.
Ankit claimed he was an AAP member and said he attacked Mishra for harming the party.
Mishra is demanding that AAP leaders Sanjay Singh, Ashish Khetan, Satyendra Jain, Raghav Chadha and Durgesh Pathak disclose details and source of their funding for their foreign trips and questioned as to why these leaders have not put this information in the public domain as yet.
Earlier, in a letter, Kapil told Kejriwal, 'Someone told me if these details are revealed, the public won't let you stay in power for another moment. What is the secret behind these trips?'
-ANI