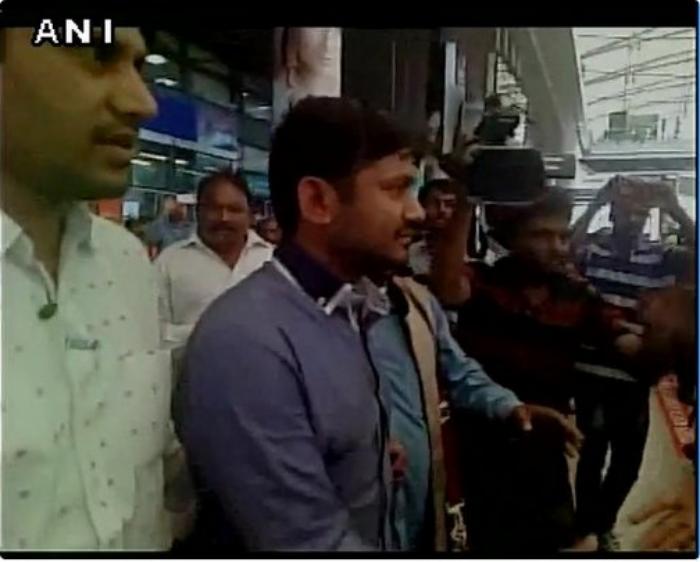 Jawaharlal Nehru University students' union president Kanhaiya Kumar, who is on a visit to Hyderabad Central University (HCU), on 23 March said that the Centre should pass the Rohith Vemula Act as soon as possible.
Kanhaiya was denied permission to address a gathering in HCU. University authorities also bared political leaders and media personnel for entering the campus. Classes have been suspended for the next few days.
"In view of the situation, classes are suspended from March 23 to 26. We have taken a decision not to allow any outsider, including mediapersons and political parties, on the campus," the Indian Express quoted Registrar M Sudhakar as saying.
Upon landing at the Hyderabad airport on Wednesday morning, Kanhaiya told reporters:
"I will first meet Rohith Vemula's mother Radhika and his brother Raja. JAC has invited me to address a public meeting on HCU campus. If police allows me then I will definitely go to HCU and address the students. We have experience with JAC for various struggles and we will take this fight forward. this struggle will continue until Rohith Act is implemented. to fulfil his dreams of social justice on the campus".
Kanhaiya said they would fight to press the Centre to pass the act so that no such incidents occur in future. He said he, along with three other JNU research scholars and professor, would meet Rohith Vemula's mother. Comparing Rohith's mother to Bhagat Singh's mother, he said, "The Joint Action committee has invited them to Hyderabad and in the evening a public meeting will be held."
Rohith, 26, committed suicide by hanging himself in the University of Hyderabad's campus in January. He was earlier suspended from the university hostel in August last year by the administration for allegedly attacking an ABVP leader.
Kanhaiya met the Congress vice-president on 22 March thanked him for his support to the JNU students. He led a delegation of JNUSU and All India Students' Federation (AISF) leaders to meet Gandhi at his residence. Kanhaiya was booked and arrested on a charge of involvement in anti-national sloganeering on the Jawaharlal Nehru University (JNU) campus on 9 February.
- With agency inputs