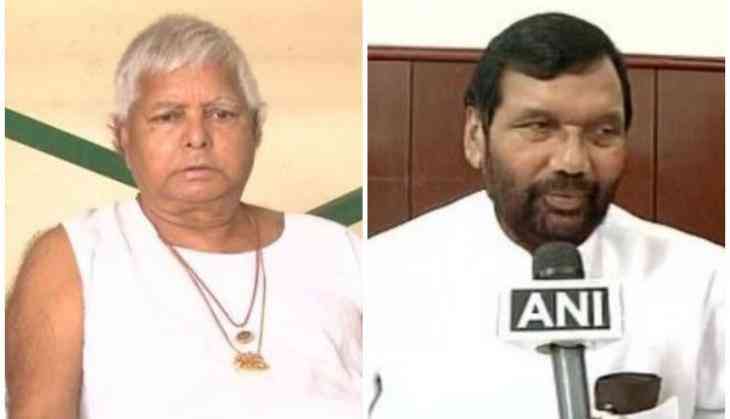 Jungle raj still exists in Bihar: Ram Vilas Paswan (ANI)
After an English news channel played a recorded conversation into the working relationship between Rashtriya Janata Dal (RJD) chief Lalu Prasad Yadav and criminal-turned-politician Mohammad Shahabuddin, Union Minister Ram Vilas Paswan on Sunday said the development is proof of rampant jungle raj still existing in the state.
'This is wrong. Still, there is jungle raj in Bihar. But this incident is very serious. Though the Chief Minister of Bihar is Nitish Kumar, but the law and order situation in the state is in hands of Lalu Prasad Yadav,' Paswan told ANI.
Earlier in the day, the party's ally Janata Dal (United) said that it was an attempt to destabilise the government of Bihar.
RJD leader Manoj Jha accused the Bharatiya Janata Party (BJP) of scripting propaganda against Lalu, who he termed as one of the strongest voices against right-winged authoritarian.
'I find the audio tapes purported and doctored. This is malicious, this is propaganda ruled out by top BJP script writers. We welcome all kind of investigation. Mr Lalu Prasad Yadav is one of the strongest voices against right-winged authoritarian,' Jha told ANI.
However, the Bharatiya Janata Party (BJP) earlier has described it as a 'saddening day of democracy' in Bihar.
BJP leader Sambit Patra told ANI the democracy was strangled in Bihar and that the Chief Minister should come up with an explanation on this.
'It is a saddening day of democracy in Bihar. Today, the democracy has been strangled in Bihar. CM Nitish Kumar is dependent on Lalu Prasad Yadav because he has the numbers. Lalu Prasad, in fact, takes dictation from inside the jail from the don Shahabuddin,' he said.
-ANI