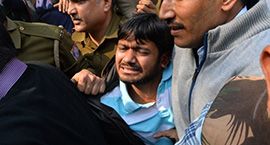 The bail plea hearing of Jawaharlal Nehru University Students' Union president Kanhaiya Kumar has been deferred to 29 February. The Delhi Police reportedly told the High Court that Kumar's remand was required in order to confront him with other accused in the matter. According to reports, the police has requested some more time to investigate the matter, in the wake of last night's surrender of JNU students, Umar Khalid and Anirban Bhattacharya.
Kumar was arrested on charges of sedition in connection with a 9 February event at the varsity where anti-national slogans were allegedly raised. The Supreme Court had earlier refused to hear the JNUSU president's plea, saying it would set a wrong precedent for other cases.
The Delhi Police reportedly spent five hours interrogating Khalid and Bhattacharya - who have been booked on charges of sedition. The two were questioned about the sequence of events, which took place in the JNU campus on 9 February.
Hours after interrogating Khalid and Bhattacharya, the Delhi Police on Wednesday filed a status report in the High Court. The report includes the alleged anti-national slogans which were raised in the varsity campus, the purported video of the incident as well as eyewitness accounts.
(With inputs from ANI)