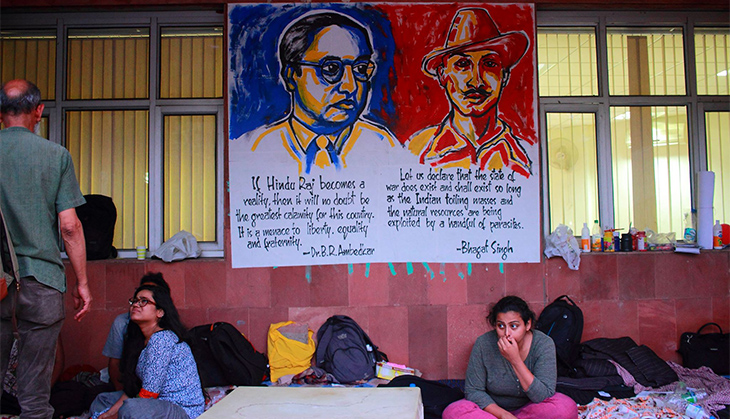 The Delhi High Court has stayed all disciplinary action against Jawaharlal Nehru Student Union President Kanhaiya Kumar, Umar Khalid, Anirban Bhattacharya and others.
The court said that it would hear the students' plea only if they end their hunger strike. Nineteen students had gone on hunger strike since 27 April, protesting the disciplinary action taken against the students. Four of them including Kanhaiya and Khalid ended their fast after their health deteriorated.
The court also said that if the JNU Vice-Chancellor, who is the appellate authority, rejects the appeal of students, the decision would not be given effect to till two weeks. This will enable the students to move the High Court again to challenge the decision, reported The Hindu.
Eight students had filed petitions challenging the penalties imposed on them by the High-Level Enquiry Committee (HLEC) for their role in a controversial event "A Country Without Post Office", organised in the JNU campus on 9 February, on the third death anniversary of Afzal Guru.
ABVP members had alleged that the event consisted of students shouting 'anti-India' and pro-Pakistan slogans.
The JNU Teachers Association had joined the students with a relay hunger strike and 100 academics from West Bengal had expressed their solidarity with the protesting students of JNU demanding the University's vice chancellor to open a dialogue with the students and reject recommendations of the high level committee.