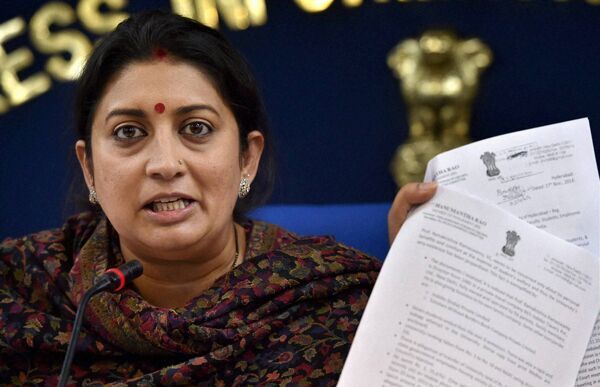 The Opposition has refused to let the Parliament function unless Union Minister Smriti Irani renders an apology for reading out controversial references to Goddess Durga, NDTV reported.
On 25 February, when Irani was talking about the arrest of JNU students on sedition charges and the suicide of Hyderabad student Rohith Vemula, she justified the police action citing a pamphlet allegedly circulated on campus to celebrate Mahisasur divas. The pamphlet comprised derogatory references to Goddess Durga. She said it proved the "depraved mentality" of the students who organised the event.
The Congress has demanded an unconditional apology from the minister. According to Irani, she read out those parts as she was asked to explain the truth and those were authenticated documents from the university. She also added that she is a "Durga worshipper".
Meanwhile, in another rebuff for Irani, Chief Medical Officer M Rajshree, who confirmed Dalit scholar Rohith Vemula's death, has denied the HRD Minister's claims in Parliament, saying she had reached the scene in three-five minutes.
"It was January 17, at around 7.20 PM to 7.30 PM, when I received a call from NRS hostel saying a student has attempted suicide and please rush here. I reached the place within three to five minutes," Rajshree told ANI.
She added that a group of students took her to the room where Rohith had attempted suicide.
"When I reached the place I started examining Rohith. His body was totally cold and rigid. His body wasn't straight, it was a bit curved above the surface of the bed. I tried to examine his pulse rate and blood pressure but it wasn't there, his tongue was protruding too. I completed my examination and declared him dead," she added.
"After 15 to 20 minutes, the police came and asked me if I can stay as they might have some queries, and I said I am very much there," she added.
She stated that the police asked her if she could predict the time of Vemula's death.
"I told them I couldn't provide the exact time but told them that minimum two hours before I reached the hostel he must have died," she added.
Irani on Wednesday pointed out that according to a report submitted to the Telangana High Court, the police had reached Rohith's hospital at 7:20 PM when they found the body.
"The police said that when they reached the hostel, they found the room open and the dead body was on the table. A hand written suicide note was found. The suicide note that was left behind does not blame anyone," she said.
"This is not my submission. This is what the police said. No one allowed a doctor near this child, to revive this child. Instead, his body was used as a political tool. No police was allowed till 6:30 AM the following morning. Who tried to help this child?" she asked.
With ANI inputs