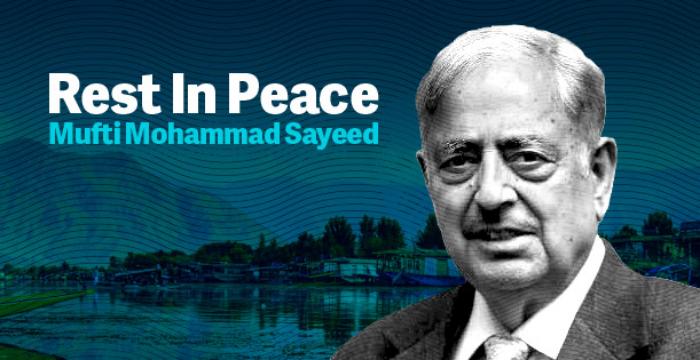 Mufti Mohammad Sayeed, Jammu and Kashmir's 12th Chief Minister, passed away in Delhi's All India Institute of Medical Sciences on Thursday morning. He was 79. The first Muslim to become the Home Minister of India in 1989, this was Sayeed's second term as the CM of J&K.
Born on Jan 12, 1936, to a family of modest means in Bijbehara in Anantnag district, Sayeed's political journey began in 1950 with the National Conference party. He was an almunus of SP College in Srinagar and Aligarh Muslim University, from where he obtained a degree in Law and Arab History. Read his political journey here.
Here's all that has happened since morning:
1) He breathed his last at around 8 am in the morning in AIIMS, Delhi
2) He was admitted in the hospital two weeks ago for lung infection and succumbed to it this morning
3) His daughter, 56-year-old Mehbooba Mufti who also heads the in-power Peoples Democratic Party (PDP), in J&K, arrived in the national capital this morning
4) The funeral will be held today in his hometown, Bijbehara, in Kashmir
5) PM Modi paid his respects before the body was sent back to J&K by air from Palam airport
6) Several politicians paid their respects as well, among them was Vice President Hamid Ansari, Sonia Gandhi, Sushma Swaraj and Rajnath Singh
7) PM Modi also tweeted his condolences, writing, 'what stood out about Mufti Sahab was his statesmanship. In his long political journey he won many admirers across the political spectrum.'
8) Seven days of mourning has been declared in J&K
A peek at what some of the biggest names in politics have to say about him:
President Pranab Mukherjee @Rashtrapati: Heartfelt condolences on the passing away of J & K CM Mufti Mohammad Sayeed #PresidentMukherjee
@BJPRajnathSingh : The demise of Shri Mufti Sayeed is an irreparable loss to Jammu and Kashmir. His departure has also left a big void in national politics.
@abdullah_omar : Just heard the terrible terrible news of Mufti Sahib's passing away. I'm shocked & deeply saddened. May he rest in peace.
@NitishKumar : Deeply saddened to hear of Mufti Sahib's demise. My condolences to his family and supporters.
@laluprasadrjd : Deeply saddened by the sudden demise of Mufti Sahab. He was kind, warm, brilliant and exemplary leader with strong administrative qualities
@SushmaSwaraj : Mufti Saheb was a seasoned leader. He has gone when we needed him the most. My heartfelt condolences to the bereaved family.
@smritiirani : Saddened to hear about Mufti Sahab's demise. Wishing his family peace and strength during this difficult time.
@Swamy39 : Mufti is no more,a cultured person. Union Govt must immediately administer oath to Dy CM as caretaker CM & J&K BJP PDP MLAs choose new CM
@OfficeOfRG : Extremely saddened to learn of the passing away of Mufti Mohammad Sayeed Saab. My condolences to his family and supporters
@ArvindKejriwal : V sad to hear abt Shri Mufti Mohd. Sayeed's demise. May his soul rest in peace. Heartfelt condolences to the bereaved family