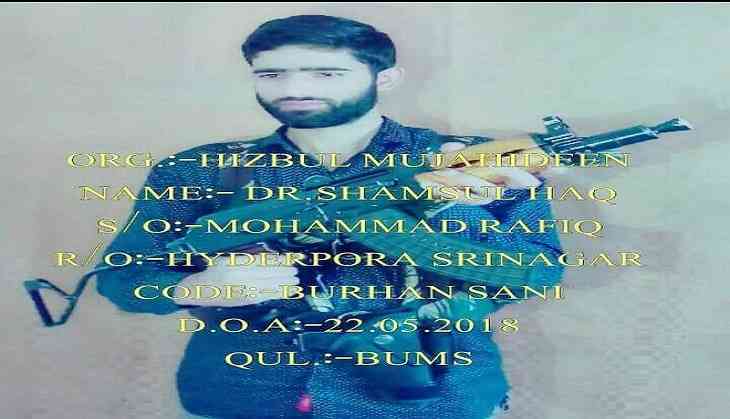 The news of brother of an Indian Police Service (IPS) officer joining the Hizbul Mujahideen came to public when the militant organization released pictures of new recruits on the death anniversary of commander Burhan Wani.
A resident of south Kashmir's Shopian Shamshul Haq Mengnoo who was pursuing his BUMS from a government college at Zakura situated on the ourtskirts of Srinagar, went missing from May. His elder brother Inamul Haq is a 2012 IPS batch officer who is posted in north east.
A police officer confirmed Shamshul's joining to the militant organization. "Yes, Shamsul has joined Hizbul," a police officer said.
The picture shows Shamsul holding a gun, his date of joining militant ranks on May 25, 2018. His code name is Burhan Sani as shown in the picture. For the last two years, it has been a way of the new age militants they announce their joining by releasing pictures with guns on social media.
Shamsul is the fourth highly-educated youth to join militant ranks this year. In this year, over 50 youth have already joined militant ranks as of now.
As the government adopted a muscular policy to crush the militancy in the valley, the state has seen the new rise of militancy.
Meanwhile, normal life was hit across Kashmir Valley on the death anniversary of militant commander Burhan Wani. In 2016, his killing had set off a six month long unrest caused the killing of about 80 people.
Authorities imposed curfew in Tral – the native town of Wani and restrictions were imposed in many part of Srinagar to ensure peaceful day.
Also read: Uttar Pradesh gangster Munna Bajrangi accused of killing BJP leader Krishnanad Rai shot dead in Bhagpat jail