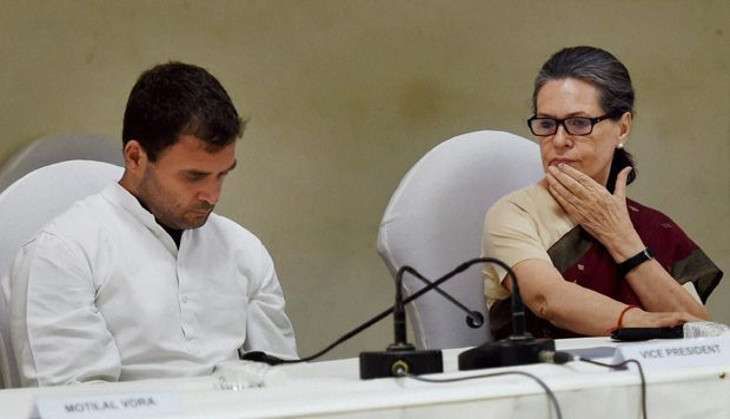 With Congress vice-president Rahul Gandhi leading from the front in the ongoing campaign for assembly polls in the five states of Uttar Pradesh, Punjab, Goa, Manipur and Uttarakhand, the conspicuous absence of his mother and party president Sonia Gandhi from action has kept everyone guessing whether the former is all set to take over the baton of the grand old party.
The move is seen as more than just coincidental and appears to be a calculative step aimed at ensuring that Rahul grabs all eyeballs and emerges as the face of the Congress.
The campaign in two poll-bound states of Punjab and Goa ends tomorrow. However, the Congress president surprised all with her absence following which there was murmur in the political circles as to why she has opted to stay out this time.
The probable assumptions range from her deteriorating health to her deliberately taking a backseat.
Sources say that before pushing Rahul as the Congress chief, she wants to establish her son as a successful leader.
Optimistic of a political edge in Punjab, the Congress Party is also upbeat that its alliance with the Samajwadi Party in politically crucial Uttar Pradesh will bear results.
The way Rahul has been leading from the front in all party programmes is evident of the fact that he is all set to take charge as the next party president.
And playing a key role from behind the curtains is his elder sister Priyanka Gandhi Vadra.
Whether it is taking a final call on the candidates in the Samajwadi Party-Congress coalition for the Uttar Pradesh election or strategising the campaign, everything is being monitored by Priyanka.
In such a scenario, it's not easy to digest reports suggesting that Sonia has remained out of electoral politics because of health issues.
One can recall how Sonia has on many occasions tried to push Rahul to the front, be it unfurling the flag on the Congress foundation day despite being in the country or sending him to the Jan Vedna Sammelan in Talkatora stadium in her place. Sonia is consistently trying to make a point that Rahul is the next face of Congress.
However, this doesn't mean that Sonia has refrained from stepping out in public altogether.
On Tuesday, she came out for the President's address before the Budget Session in Parliament and was later seen at the Ram Manohar Lohia hospital after the demise of former union minister and Indian Union Muslim League (IUML) MP E. Ahamed.
On all these occasions, she seemed to be fit and healthy, thereby leaving several curious minds wondering as to what could be the reason of her absence from the Congress' campaign in the five poll-bound states.
-ANI