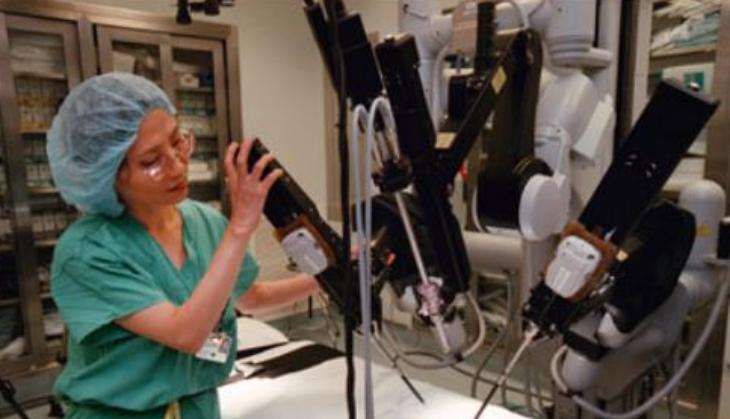 The Institute of Robotic Surgery in Bengaluru, using the Da Vinci Robotic Surgical System, has successfully completed over 100 robotic surgeries in just five months.
Launched in partnership with the lnfosys Foundation at Narayana Health City, the institute has been using the Da Vinci surgical system to conduct complex surgeries using a minimal invasive approach. Surgeons operate through a few small incisions. The system features magnified 3D high-definition vision system and tiny wristed instruments that bend and rotate far greater than the human hand. As a result, surgeons operate with enhanced vision, precision and control.
The Infosys Foundation intends to encourage and enable rapid adoption of robotics in healthcare, and provide access to affordable, minimally invasive surgeries to a large number of people of the country.
"We want more number of patients to have the advantage of the advanced surgical and medical care available at our hospital. We believe that it's a matter of time before most of the procedures on the human body will be done using robotic technology. The Da Vinci surgical system has helped us to provide the best possible surgical outcomes and the completion of more than 100 successful surgeries is a proof of our commitment to provide the latest and the best quality treatment," said Dr. Devi Shetty, Chairman of Narayana Health.
Dr. Lavanya Kiran, consultant obstetrician and gynaecologist at Narayana Health City has the distinction of being the first surgeon in India with the least learning curve in robotics for having performed nine procedures in 17 days as declared by Intuitive Surgical, the official partner of Da Vinci for training in robotic surgeries. She has broken the record set by a Coimbatore doctor who performed nine robotic surgeries in 33 days.
"The Da Vinci Robotic Surgical system gives me accuracy and great precision in operating with its 10 times magnification and 360 degree Endowrist movement, which helps reach the unreachable places conveniently and helps in better resection. It makes me happy and content to give my patient the best result with least complication and minimal stay in the hospital", said Dr. Lavanya.
Ms. Sudha Murty, Chairperson lnfosys Foundation said, "Within five months of launching the institute of Robotic Surgery, Narayana Health and lnfosys Foundation have accomplished the milestone of completing 100 robotic surgeries and training of 10 doctors. This is a testament to the world-class standards set by the two organizations, and speaks highly of its commitment to providing world-class healthcare to the masses by leveraging the power of technology. We are proud of our partnership with Narayana Health".
-ANI