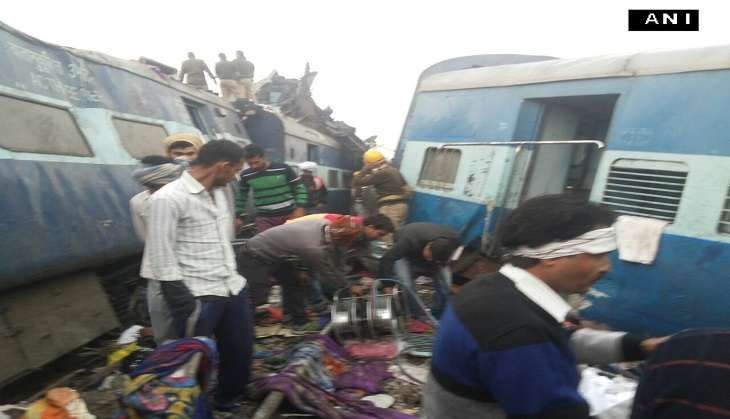 The death toll in the Patna Indore train tragedy has reportedly gone up to 133 with nearly 200 injured.
A special train with survivors of the tragic incident reached Patna early this morning. 14 coaches of the Patna-Indore Express derailed near Pukharayam in Kanpur district of Uttar Pradesh on 20 November. Rescue operations were on for more than 14 hours. Several passengers are still feared trapped under the debris of the damaged coaches. Initial reports suggest that fractured rail tracks could be the possible cause of the accident.
Following the tragic Patna-Indore Express derailment, Uttar Pradesh Chief Minister Akhilesh Yadav announced on 20 November that an ex-gratia amount of Rs 5 lakh would be awarded to the families of the deceased.
Read More: Indore-Patna Express tragedy: UP CM Akhilesh Yadav announces ex-gratia for kin of victims
He also announced compensation of Rs 50,000 for people with serious injuries and Rs 25,000 for those with minor injuries.
Also Read: Patna-Indore train tragedy: Death toll rises to 100; PM Modi, Rajnath Singh express grief
Union Railways Minister Suresh Prabhu announced an ex-gratia of Rs 3.5 lakh for the families of the deceased and Rs 50,000 for those critically injured. Prabhu also announced a compensation of Rs 25,000 for those who sustained minor injuries.
Prime Minister Narendra Modi has also announced ex gratia compensation of Rs. 2 lakhs from PMNRF for the next of kin of those killed and Rs. 50,000 for those seriously injured in the rail accident.
The Prime Minister who was addressing a public rally in Agra expressed his grief over the Patna-Indore Express tragedy saying, ""My thoughts are with the bereaved families. I wish those injured a speedy recovery." "The Centre will look into this matter."
Read More: 100 dead, 150 injured as Patna-Indore Express derails in Kanpur; helpline numbers issued
--With ANI inputs