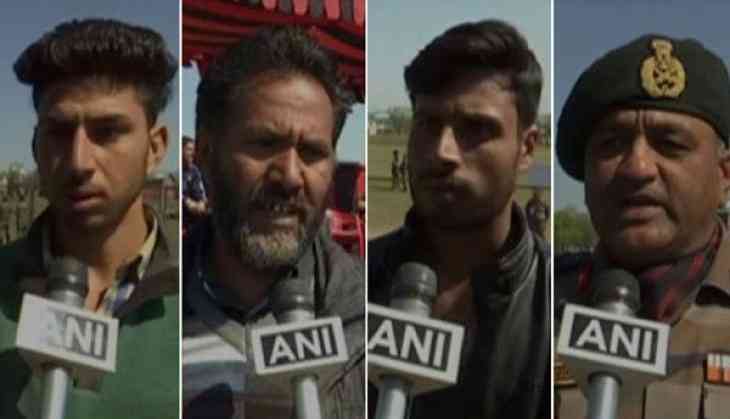 Indian Army's recruitment drive attracts Kashmiri youth (ANI)
Around 1500 youths, including 500 from the Kashmir Valley, competed in the Indian Army's recruitment drive here to ensure that they lead a dignified life.

The recruitment is being done for the Indian Army's Jammu and Kashmir Light Infantry (JAK LI) for the Kashmir region.

Munnawar Hussain, whose son is participating in the recruitment rally, expressed his delight and said that he would be extremely proud if he is selected.

"My son is here from the last 20 days. The army's center has been taking care of my son and other young boys like a mother takes care of her child," he told ANI.

Hussain, a former JAK LI soldier, said that Kashmiri youth shouldn't fall prey to the 'misinformation' and come at JAK LI centre to know what type of treatment the Indian Army gives to Kashmiris.

He thanked his commander and JAK LI regiment for providing him the opportunity to lead a dignified and meaningful life.

JAK LI employs only the residents of Jammu and Kashmir and gives additional points in the selection to the children of former JAK LI soldiers.

A local Shahid, who has been selected in the JAK LI, told ANI that it would be his pleasure to serve the nation through the coveted Indian Army.

Another local Mohammad Shabir, who has been selected, said that he would now be able to live a comfortable and dignified life, adding that he would not be able to cater to the needs of his family.

He exhorted the stone-pelters and drug addict Kashmiri youth to desert the devastating path and try to join the Indian Army.

"These youth should also think about their parents," said Shabir.

Another local Mohammad Sadiq, who served in the JAK LI for 17 years, said there is no better job than this.

His son also participated in the recruitment rally.

An army officer, who monitored the entire recruitment process, said around 30,000 youngsters from Kashmir Valley participated in the Indian Army's recruitment drive in the recent past.

"This shows patriotism is there in the hearts of Kashmiri youth and the army is also trying to create more vacancies for the Kashmiri youth," he said.

When asked about the reason behind so many Kashmiri youths opting to join the Indian Army at a time when the situation in the valley is volatile, the officer said, "Patriotism and attraction for the Indian Army among the Kashmiris is not a new thing."

"The common people, who waged an armed resistance to the Pakistani aggression in J&K, were initially called J&K Militia, which was later transformed into JAK LI," said the army officer.

He informed that recruitment for the youngsters of Jammu, Rajouri, Doda, Kishtwar, and Leh regions will be held on Wednesday.
-ANI