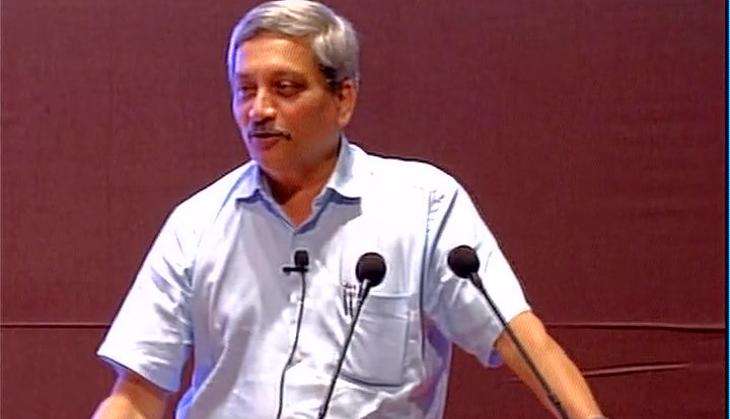 In the wake of the escalating tension at the border with Pakistan, Union Defence Minister Manohar Parrikar on Monday said good relations with neighbouring nations are always welcomed but not at the cost of national security.
"Prime Minister Narendra Modi made efforts to maintain the relations with the neighbouring country, the people criticised him for that too. We would welcome good relations with any neighbour. Two neighbours being friendly always helps, but at the same time not at the cost of national security," said Parrikar said at the commissioning ceremony of INS Chennai.
Commenting on the consistent ceasefire violation by Pakistan on the Line of Control (LoC), he said that the Indian Army does not initiate any action unless provoked from the other side of the border.
Parrikar asserted that standard procedures are being followed to bring back Indian jawan Chandu Babulal Chauhan, who inadvertently crossed the LoC, and added the Pakistan Government has assured that he is alive and safe.
Throwing light on his upcoming visit to Bangladesh, Parrikar said it is a planned trip, adding a Defence Minister should visit neighbouring nations to build good ties.
Parrikar described the commissioning of INS Chennai as a historic day for the Indian Navy.
Following the commissioning, INS Chennai will be placed under the operational and administrative control of the Flag Officer Commanding-in-Chief, Western Naval Command. On completion of some additional sea trials of ship-borne systems, it will be assigned to the Western Fleet and would be based at Mumbai.
INS Chennai, manufactured by Mazagaon Dock Shipbuilders Limited, Mumbai, is among the largest destroyers constructed in India having a length of 164 meter and displacement of over 7,500 tonne. The ship is a potent platform capable of undertaking a variety of tasks and missions, spanning the full spectrum of maritime warfare.
Armed with supersonic surface to surface 'BrahMos' missiles and 'Barak-8' long range surface to air missiles, the ship possesses formidable prowess of missile technology. The undersea warfare capable boasts of indigenously developed anti-submarine weapons and sensors, prominently the Hull Mounted Sonar 'HUMSA-NG', Heavyweight Torpedo Tube Launchers, Rocket Launchers and Towed Arrau sonar capability.
--ANI