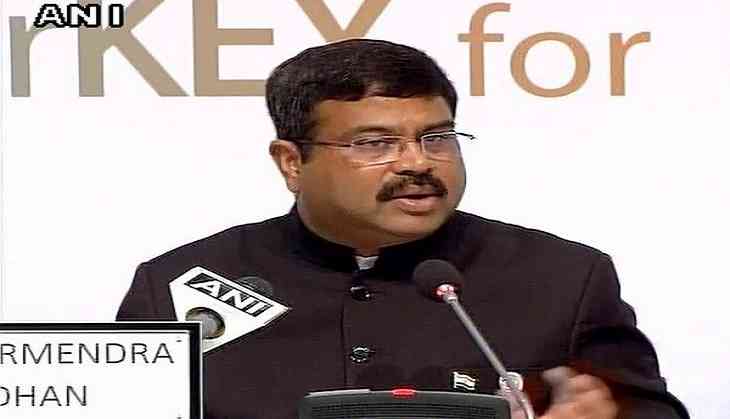 Minister of Petroleum and Natural Gas Dharmendra Pradhan on 10 October lauded the energy growth in the country, while adding that India is number three in energy consumption.
"We are the number three in energy consumption and our energy growth is phenomenal. Today our per capita consumption is one fourth of the world per capita consumption," Pradhan said at the interactive session of Indian Energy Forum organised by CERAWEEK.
"Very soon we will be coming with gas exchange platform," he added.
Pradhan earlier on Monday said that world's major energy economies have appreciated India's expanding engagement with countries and its pace of reforms in the energy sector.
Pradhan said, "World major oil economies, be it Russia, Saudi Arabia or others, all have recognised our expanding engagement and they also appreciated our pace of reforms in the sector in the past three years."
The Union Minister informed that more than 30 experts from India and outside country including BP, Saudi Aramco, ExxonMobil, and all major stakeholders of Indian oil companies attended the India Energy Forum which is scheduled from October 8-10 in the national capital.
Pradhan added that the stakeholders discussed on India's emerging energy economy.
Speaking to the media, he said, "Our economic strategy shows that along with vertical growth in the energy sector, India is also growing horizontally. More investment and new technology in the sector is always welcomed, but for energy to reach every household of India, horizontal growth is the prime importance."
Pradhan further said that Amin Nasser --- CEO of Saudi Aramco, a Saudi Arabian Oil Company which opened its office in India on Sunday, --- has categorically spilled out that its investment in India, world's third-biggest oil consumer, will increase.
"Amin Nasser assured that procurement from India's manufacturing industry, especially from oil and energy related manufacturing industry will increase. This will help in increasing job opportunities in India," Pradhan added.
He further stated that the government has brought enormous reforms in last three years and it is due to this that world's big player have agreed to invest in India.
Talking about its ministry's future strategies, the Union minister said that constant reform to bring more transparent mechanism to Indian energy market is his only strategy.
-ANI