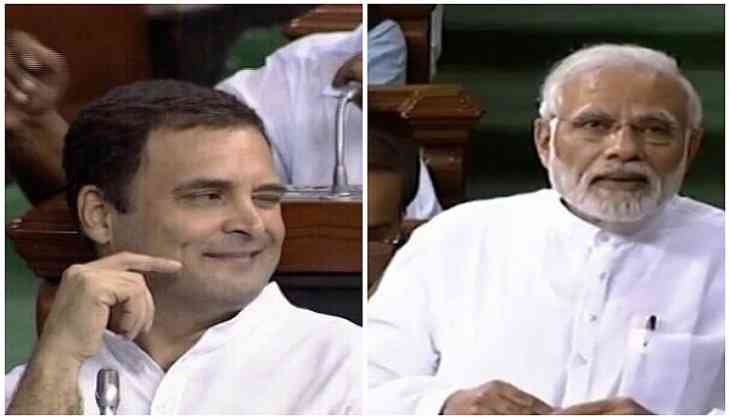 Prime Minister Narendra Modi on Friday took a dig at Rahul Gandhi's unexpected hug in the Lok Sabha and said that he was left surprised by the gesture of the Congress President.
Speaking in the Lower House of the Parliament, the Prime Minister said, "I was surprised at Rahul Gandhi's excitement to come and hug me. What is the hurry? You should trust the people in a democracy. Some people are in a rush to get to the treasury benches."
Continuing to this, Prime Minister Modi also took a jibe at Rahul's earthquake remark from 2016.
The Prime Minister said, "Some said the PM won't be able to stand for more than 15 minutes in the House, I am standing here and I am proud of the work that I have done. Even before the count was over, people walked up to my desk and wanted me to stand up. They should know that nobody can make someone sit or leave. It is the country which decides this."
This statement comes in relation to a 2016 speech of Rahul Gandhi, where he said that the Parliament will jolt if he is given 15 minutes to speak.
Earlier in the day, Gandhi after ending his speech moved across the floor to get to the treasury benches to the Prime Minister. They hugged each other, and as Gandhi was returning to his seat, Prime Minister Modi was seen calling him back and they exchanged pleasantries. The gestures seemed to ease the tempers.
Continuing his tirade against the Congress, Prime Minister Modi said, it is the floor test for the Congress and its so-called friends and allies.
"This is not a floor test for the government; it is a floor test for the Congress and its so-called friends and allies. No confidence motion is a rouse to keep their flock together. The only aim is to remove a single Modi. Trust your allies and friends just as much you distrust the government," he said.
Prime Minister Modi also countered Gandhi's attack on the Doklam issue and said, "Sometimes we should not touch upon issues that are beyond us. We should not talk about things that we don't know."
Rahul raked up the Doklam standoff in Parliament today during the no-confidence motion, saying, " The Indian Army stood its grind, but Prime Minister Modi buckled under pressure from China."
"When the Chinese President comes to India, Modi sits with him on a swing in Gujarat. After that he goes back to China and sends his troops to Doklam. The Indian Army goes to Doklam and stands bravely against the Chinese," he added, claiming that PM went to China with no agenda; in fact catered to China's demands and conceded to them.
He further questioned, "Earlier you denied claims of meeting Chinese leaders and then you said you did meet them. Then after a media report, you accepted that you had met them. Will you keep acting childishly everywhere?"
Reacting to charges on the Rafale deal on himself by Gandhi, Prime Minister Modi said, "Attacking two nations at the same time with some childish allegations, what kind of maturity is this? Rafale issue was discussed. I can't believe the truth can be crushed like this. Both the nations were forced to issue statements over this childish behavior. They are screaming without any proof. People have given you a chance to improve. Every soldier would have been wounded by the words of the Opposition."
Gandhi raised the controversial Rafale deal in Parliament while accusing Defence Minister Nirmala Sitharaman of lying to the nation quoting the 'secrecy clause' in the pact.
"The Defence Minister has clearly lied under pressure from the PM. Everybody knows the relationship that Prime Minister Modi has with a few business people, and everyone can see the amount of money that goes into his marketing. One of them was given the Rafale contract. Prime Minister Modi has not been truthful and that is a fact," Rahul claimed.
Prime Minister Modi further poked fun at Gandhi over his winking act in Lok Sabha and said, "Talking about eyes, we have seen quite a lot of eye movement today."
Not only this, Prime Minister Modi also dragged UPA President and Rahul Gandhi's mother Sonia Gandhi into this by calling her arrogant to have claimed that numbers in the Parliament are in Congress' favour.
(ANI)