Prime Minister Narendra Modi left New Delhi on 3 June for a five-nation tour. The PM is currently on the last leg of the tour which included Afghanistan, Qatar, Switzerland and the United States. He will head to Mexico on 8 June before he returns to India.
From meeting world leaders, to inaugurating landmark projects, to interacting with Indians across the world, here are a few snapshots from the PM's trip.
PM Modi in Mexico 9 June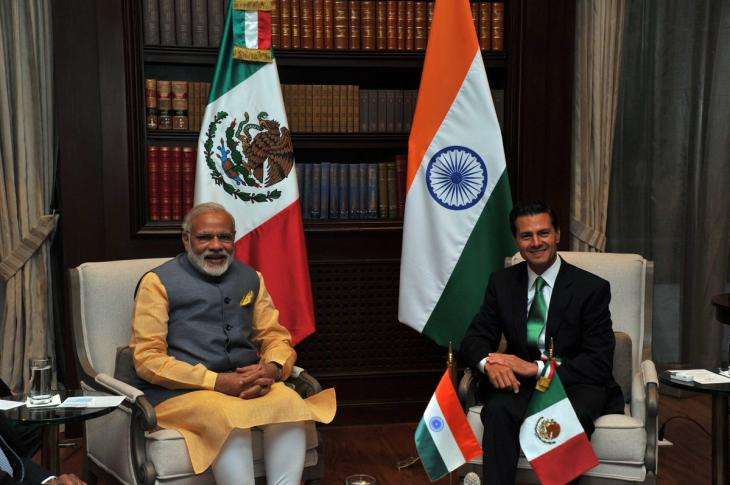 PM Modi meeting the Mexican President Enrique Peña Nieto. (Photo: Twitter/MEA)
Modi focused on the trajectory of various bilateral ties and how business and investment are an important driver of the relationship between these two countries. He added that Mexico's support for India's membership for the NSG will benefit both the countries.
PM Modi in United States (6-8 June)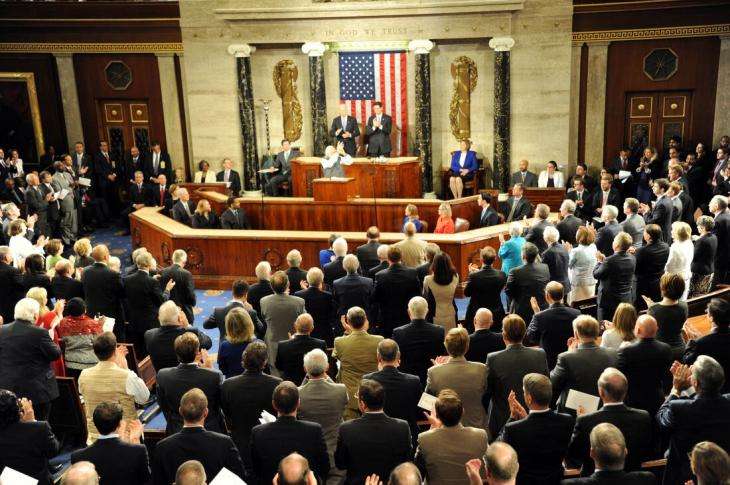 PM Modi receiving a standing ovation after his historical speech. (Photo: Twitter/MEA)
PM Modi emphasized on the delegitimization of terrorism and security ties between India and US. He mentioned that how India considers US as an indispensable partner in every sector.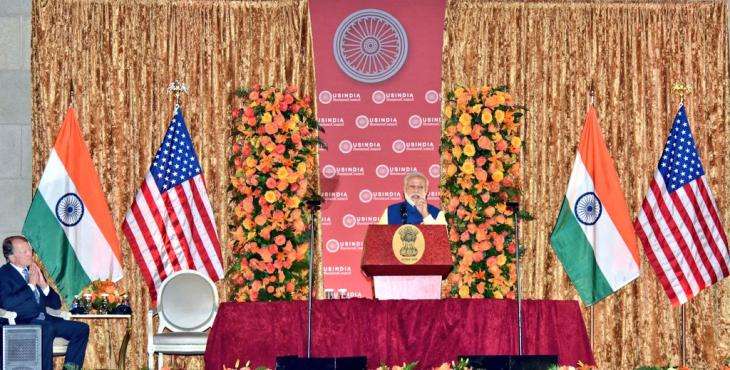 PM Modi addressing the USIBC. (Twitter/MEA)
In his keynote speech at 40th AGM of US India Business Council (USIBC) on 7 June, PM Modi invited audience to join in the journey of building a better India, a better America and a better world.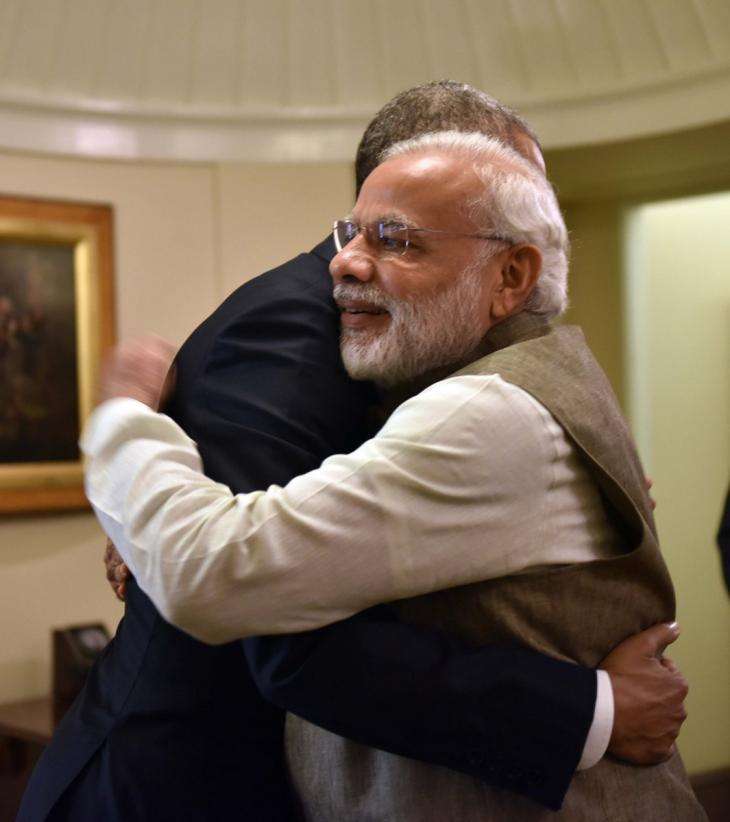 PM Modi met US President Barack Obama at the Oval Office. (Twitter/MEA)
In a meeting with US President Barack Obama at the Oval Office, PM Modi appreciated his assistance and support towards India's application to be a member of MTCR and the Nuclear Suppliers Group. The two leaders also released a joint statement, titled: United States and India, titled Enduring Global Partners in the 21st Century.
Also Read:Full text of the Indo-US joint statement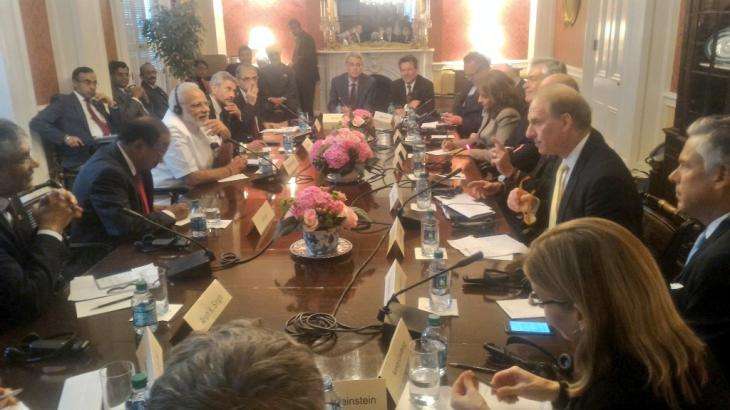 PM Modi attending a conference of US think tanks. (Twitter/MEA)
The Indian PM interacted with heads of American think tanks at Blair House.
Also Read: PM discusses global challenges with heads of American think tanks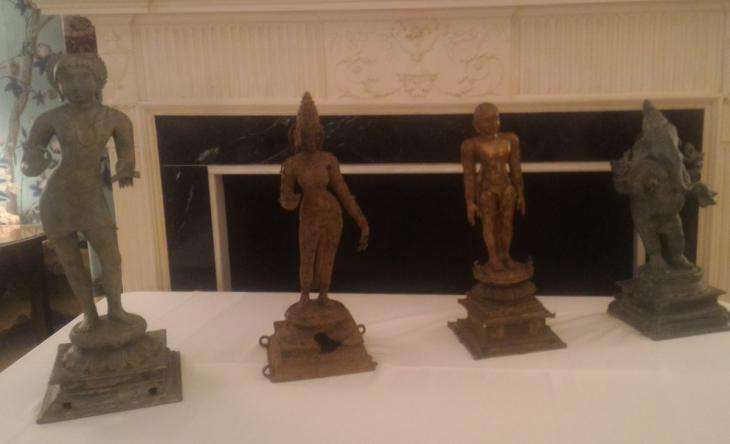 A few of the stolen artifacts. (Twitter/MEA)
Attorney General of the United States, Loretta E Lynch repatriated more than 200 stolen cultural artifacts worth $100 million to India as a step towards cultural bonding. Some of them even dated back 200 years. The stolen artifacts were in the presence of the US Attorney General.
Also Read:PM Modi thanks President Obama for returning more than 200 stolen cultural objects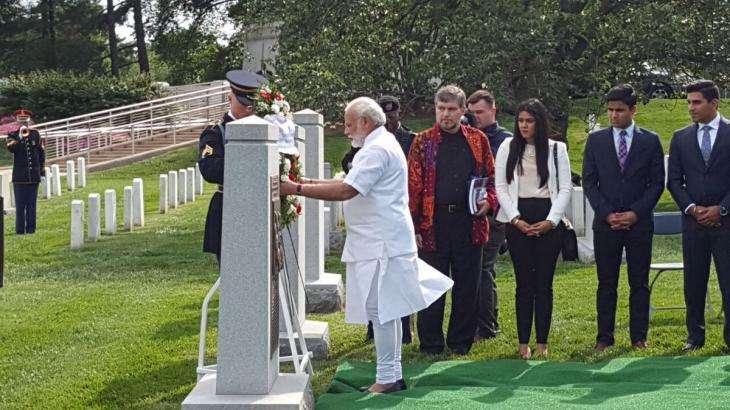 PM Modi at Arlington Cemetery. (Twitter/MEA)
PM Modi paid homage to late Indian-American astronaut Kalpana Chawla at the Arlington National Cemetery in Washington. He also met astronaut Sunita Williams. "All of us are very honored that he took time to come and acknowledge the shuttle catastrophe and the deep cooperation that we have with India in space," PTI quoted Williams as saying.
Also Read: Sunita Williams meets PM Modi at Arlington Cemetery, remembers friend Kalpana Chawla
Switzerland (5-6 June)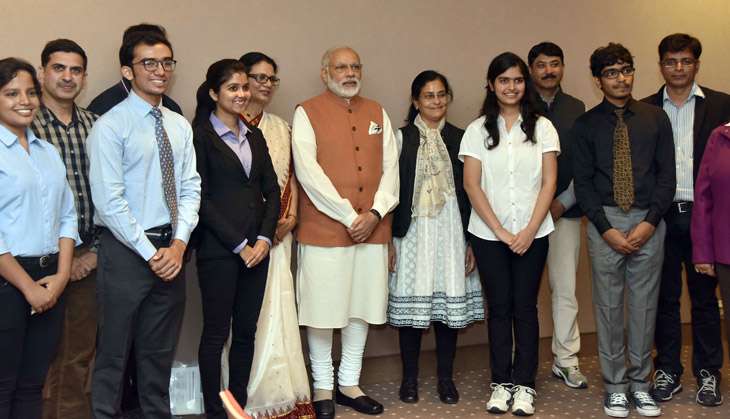 PM Modi with Indian scientists at CERN, Geneva. (Twitter/MEA)
On the third leg of his five-nation tour, PM Modi expressed his desire to meet the Indian scientists working at CERN. "India takes pride in their contribution to exploring new frontiers of science in the service of humanity," he said.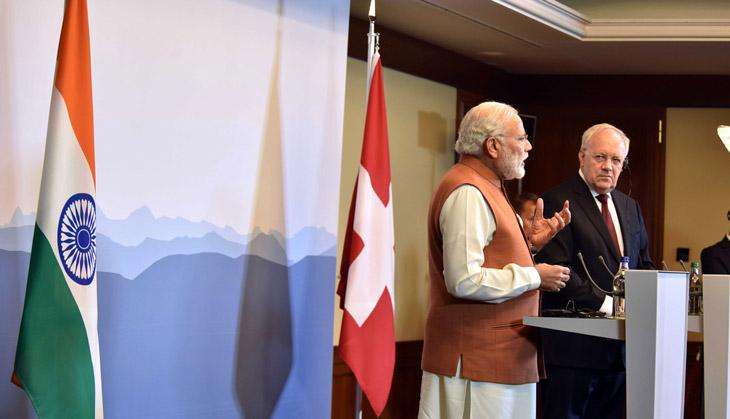 PM Modi with Swiss Confederation President Johann Schneider-Ammann. (Twitter/MEA)
PM Modi and President of Swiss Confederation Johann Schneider-Ammann in Geneva met to hold talks aimed at enhancing the bilateral and multilateral cooperation. Among other things, the two leaders discussed India's bid to enter the Nuclear Supplier Group.
Also Read: NSG membership, black money issue to feature in Geneva talks
Qatar (5 June)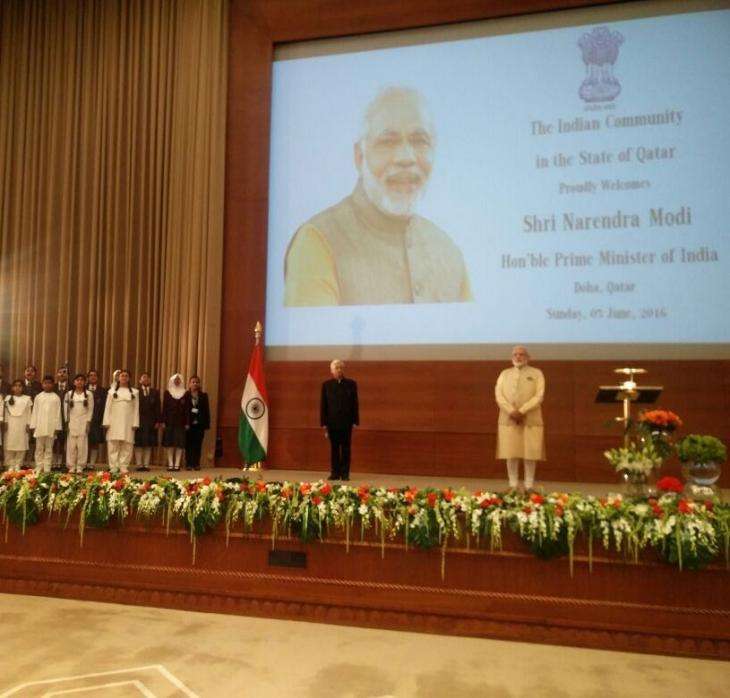 PM Modi meet the Indian community in Qatar. (Twitter/MEA)
After PM Modi met Indian Indian labors in Qatar and raised concerns, Qatar reassured that soon they will implement labor reforms to improve the conditions of Indian migrants.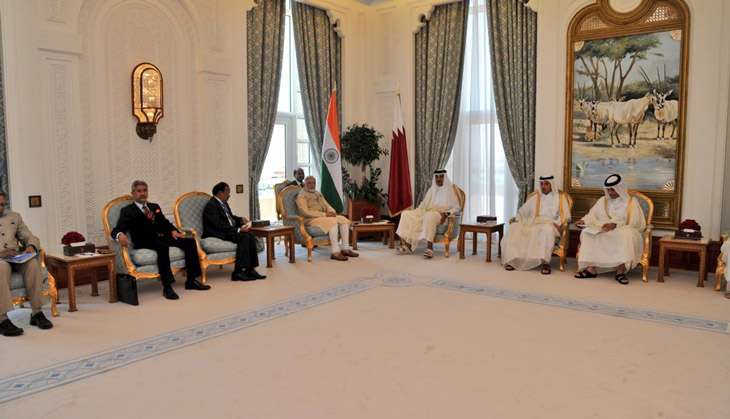 PM Modi in a meeting with the Emir of Qatar Tamim bin Hamad Al Thani (Twitter/MEA)
India and Qatar signed seven MoUs, including agreements on finance intelligence to check money laundering, terrorism financing and foreign investment in the infrastructure sector from the gas-rich Gulf state.
Also Read: India is the land of opportunity, PM Modi tells Qatar businessmen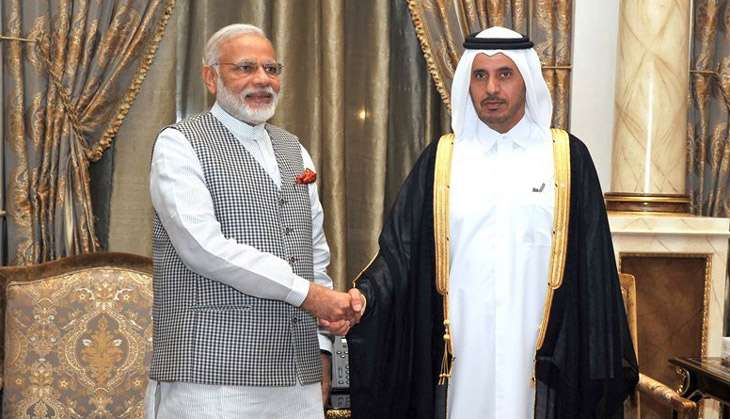 PM Modi with his Qatar counterpart Sheikh Abdullah Naser Al Thani (PTI) (Photo: PTI)
The prime area of focus in the meeting between PM Modi and his Qatari counterpart Sheikh Abdullah bin Nasser Al Thani was to push economic ties between these two countries. The latter also hosted a banquet in PM Modi's honor.
Afghanistan (4 June)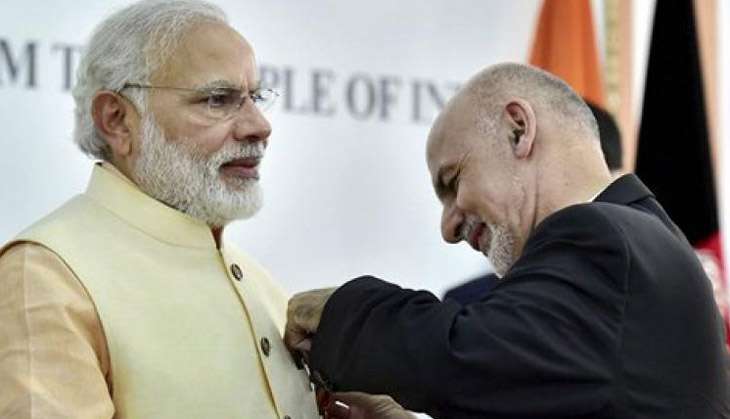 PM Modi recieving the highest civilian award of Afghanistan (PTI) (Photo: PTI)
As an honor to true brotherhood between India and Afghanistan, the Afghanistan government awarded PM Modi the Amir Amanullah Khan Award - Afghanistan's highest civilian honor.
Also Read: PM Narendra Modi honoured with Afghanistan's highest civilian award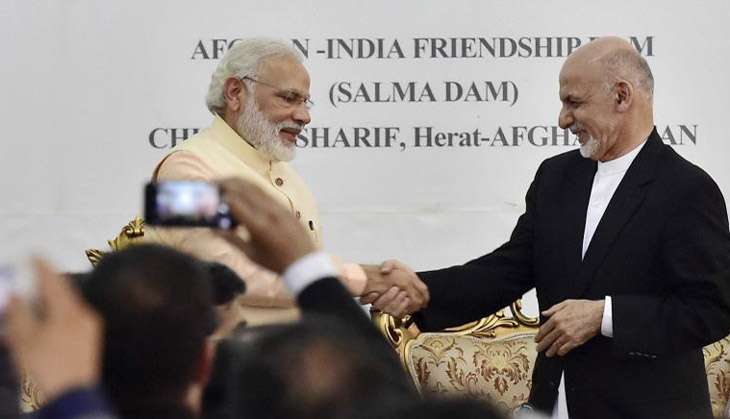 PM Modi and Afghan President Ashraf Ghani inaugurating the Friendship Dam (PTI) (Photo: PTI)
As a mark of the first step in the "development partnership" agreement, Prime Minister Narendra Modi and Dr Ashraf Ghani, President of Afghanistan jointly inaugurated the Afghan-India Friendship Dam (Salma Dam) at Chist-e-Sharif in Herat province.
Also Read:PM Modi calls India-Afghanistan Friendship Dam a symbol of belief