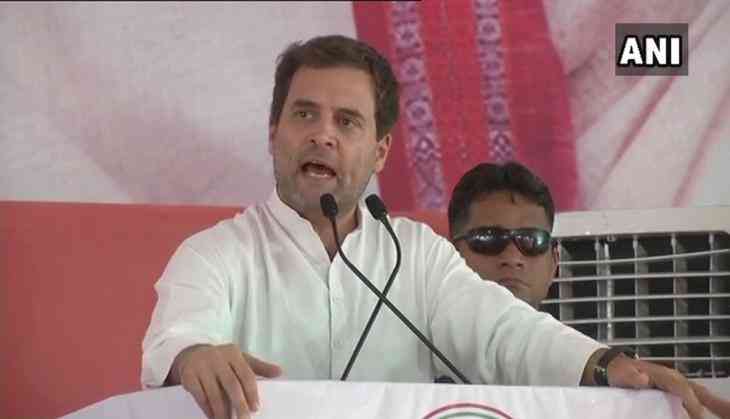 Congress President Rahul Gandhi on Friday dared Prime Minister Narendra Modi to break his silence on the controversy pertaining to the Rafale jets deal and come clean on the deal between French aircraft manufacturer Dassault and Anil Ambani-led Reliance Defence Industries.
Intensifying his attack on Prime Minister Narendra Modi, the Congress president said, "I throw a fresh challenge to Prime Minister Modi. Answer this to the youths of this state, on why did the former French president said that it was you, Prime Minister who handed over the contract to Anil Ambani. Why did you facilitate the deal for a company indebted with Rs 45,000 crore? Why did you buy a fighter aircraft for Rs 1,600 crore which cost Rs 526 crore?"

He went on to add, "You won't answer these questions as you helped your friend Anil Ambani bag a Rs 30,000 crore deal and the country knows that you speak lies one after another on the stage and your intentions are not clear."
Urging the Prime Minister to break his silence on the matter, Rahul said, "The former French president himself came out and said that neither his government nor Dassault chose Reliance as the offset partner for the Rafale jets. He said it was Prime Minister Narendra Modi who preferred Reliance over HAL. So, it was PM Modi who helped Anil Ambani making money out of the deal, which means, the Chowkidar (watchman) of this country is nothing but a thief."
"Even during the Parliamentary debate, I threw the same questions to the Prime Minister on why he chose Anil Ambani over HAL when his company has a debt of over 45,000 crore Rupees. But, Prime Minister Narendra Modi was caught grasping at straws because the Chowkidar (watchman) has robbed the nation. People who are corrupt and loot a nation, cannot look into eyes and say the truth," Rahul added.
Rahul also attacked Madhya Pradesh Chief Minister Shivraj Singh Chauhan and said that Congress will be a pro-farmer government in the state, unlike the ruling BJP government, so that the farmers can say that, "this government works for them."
He also promised that if voted to power in Madhya Pradesh, Congress will open banks for all small and medium enterprises (SMEs).
Elections to the Madhya Pradesh Legislative Assembly will be held in 2018 to elect members of the 230 constituencies in the state.
-ANI