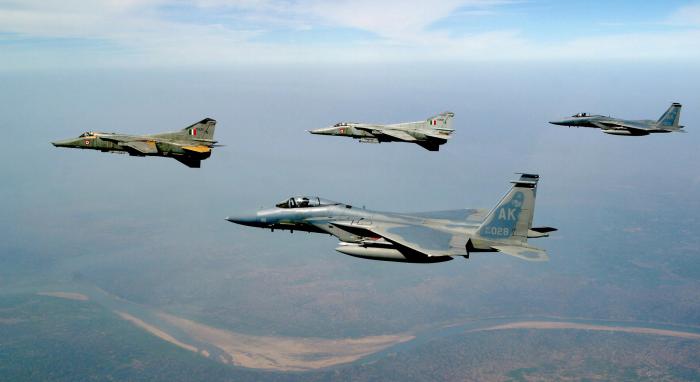 The Indian Air Force (IAF) will demonstrate its combat and air-supremacy, including the Akash Missile, for the first time, in the desert of Pokhran in Jaisalmer on 18 March.
The event, named exercise Iron Fist, will be attended by President Pranab Mukherjee and Prime Minister Narendra Modi. among other dignitaries.
The Iron Fist is a biennial event that showcases the firepower capacity of the Indian Air Force. The exercise will include combat manoeuvres and live firing of Air-to-Ground and Air-to-Air precision weapons by fighters, transport aircraft and helicopters
A total of 181 aircrafts - including Sukhoi and Tejas - will demonstrate a synchronised aerial ballet. The event will also seek to showcase the exponential increase in the operational capabilities of the Air Force - with a focus on the concept of all-weather, network-centric operations, precision weapon delivery and ability to deliver lethal firepower.
Apart from a live fire power demonstration, the Indian Air Force Surya Kiran team will also showcase aerobatic displays. Live demonstrations by the IAF Garuds and special heliborne operations will also be showcased during the event.
-ANI