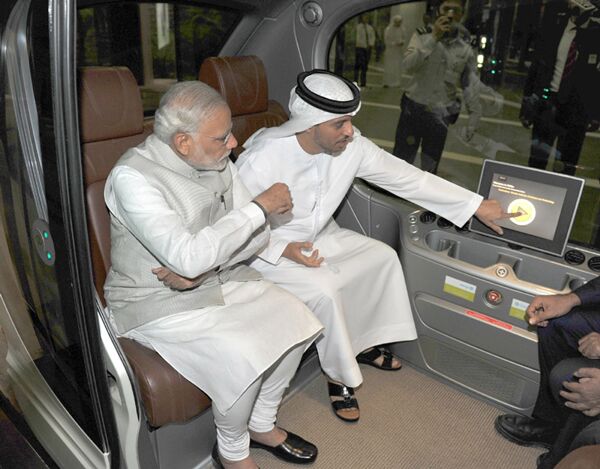 To give a boost to the Indian economy, PM Modi said he needs investments to build infrastructure for India's growth and "there is immediate potential for investments totalling US $1 trillion in India."
Stating that he is well aware of the fact that US $1 trillion is a big number, Modi said such investments can very well come to India as it has now got a decisive and stable government.
Talking about no Indian Prime Minister having visited the UAE in the last 34 years, Modi said, "We have lost 34 years. I want to erase the deficit of these 34 years. I want all of you to come to India and make 21st Century Asia's century." Modi said there are 700 flights between India and UAE, but but it took 34 years for an Indian Prime Minister to visit. "I promise this will not happen again," he said.
Those present in the meeting included members of Abu Dhabi Chamber of Commerce and Industry, top government officials and Indian origin industrialists including Yusuff Ali, B R Shetty, Ravi Pillai and PNC Menon who have set up businesses here.
Listing out investment areas, Modi said, "We want technology, speed and quality construction when it comes to housing. Low-cost housing is very important for us. "It is now commonly believed that India is one of the fastest growing economies. There are several opportunities of development in India. "I feel India is a land of many opportunities... 125 crore people of India are not a market but they are a source of great strength."
"In the agriculture sector we need cold storage network and warehousing network where UAE businesses have another advantage. Infrastructure development and real estate offer tremendous opportunities for UAE businesses in India. UAE's power and India's potential can make the dream of an Asian Century a reality."
-PTI