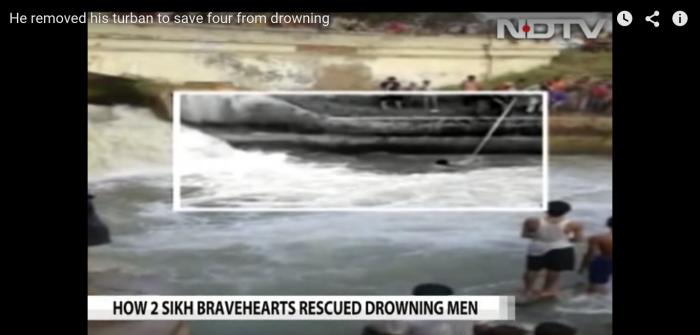 Once in a while, a story comes along and restores faith in humanity. This is one such story.
A group of boys who had gone to immerse Ganesh idols at Sular Ghat in Punjab, got into water to carry out the deed that marks the end of Hindu festival Ganesh Chaturthi. But the current was too strong and the boys were swept away.
Two young Sikh men, without losing a second, took off their turbans, the only rope-like item available at the spot and threw it across to the drowning boys. They managed to pull them in.
The rescuers didn't know each other. While the first, Inderpal Singh, was watching the idol immersion and quickly reached out to their rescue. The the second, Kanwaljit Singh who was on the other bank, followed his example. Kanwaljit admits to NDTV that he first considered jumping into the water to save the boys, "But I cannot swim. So I removed my turban and used it."
"He first tried to pull us out with a wire lying on the embankment. But it broke, and he then used his turban," said one of the rescued boys.
Sikhism teaches that one must remove the turban only at home, but these men set an example by putting humanity over religion.
Watch the heroic duo in action in this NDTV video: