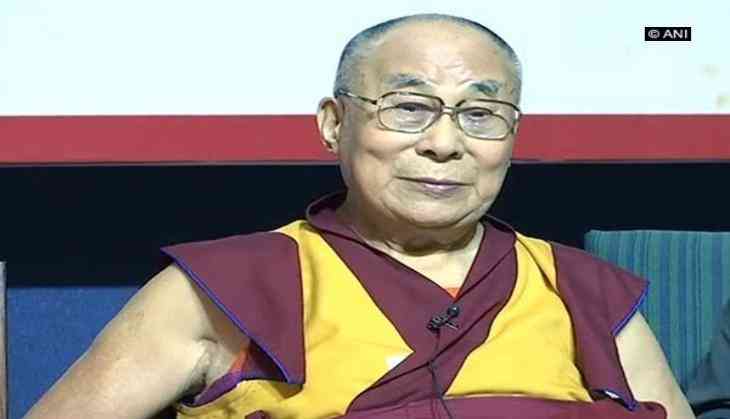 Tibetan spiritual leader the 14th Dalai Lama on 9 August urged India and China to maintain peace, saying that both nations are like brothers and have to live side by side.
"Eventually, ' Hindi-Chini- Bhai Bhai' is the only way; the two big nations, you have to live side by side," Dalai Lama said while attending a programme here.
He said he likes India as there is freedom in this country and he has more opportunity to share.
"There is freedom in this country, I can do more and have more opportunity to share. Where there is no freedom, I don't like," he said.
He also added that as per the wish of Chinese people, the Communist Party of China may follow his practice of democracy.
"Our small Tibetan community fully practices democracy and I am an admirer of democracy. People are real rulers of a country and free press is important to inform & educate people about reality," he added.
The Dalai Lama's appeal for peace came amid the standoff between the Indian and Chinese force in Doklam.
The stand-off between both the countries emerged after Chinese troops were stopped by the Indian Army from constructing roads along the Doklam border.
On August 8, State-run media in China said that if the Prime Minister Narendra Modi-led Government continues to ignore the warning coming from a situation spiraling out of control in the Doklam region, Beijing would activate unavoidable counter-measures to restore its right over territory.
Last week, India had issued a one line statement negating the claim in this 15 page Chinese document about the reduction of Indian troops at Doklam amidst the standoff: "India considers that peace and tranquillity in the IndiaChina border areas is an important prerequisite for smooth development of our bilateral relations with China."
India claims Sikkim border as part of its territory, while China has said that the area falls on their side as per the 1890 treaty signed between British and China.
Consequently, China suspended the annual Kailash Manasarovar Yatra and conceded that the decision to suspend the pilgrimage was due to the border scuffle.
It also alleged that the Indian troops had crossed the Sikkim sector of the Indo-China border.
Beijing has accused New Delhi of violating a convention signed in 1890 between Britain and China relating to Sikkim and Tibet.
In April 22, China announced its decision to rename six places in Arunachal Pradesh, which Beijing considers to be a disputed territory. New Delhi protested this 'illegal' move.
It has been speculated that China's decision was triggered over its fury over India allowing the 14th Dalai Lama in the border region earlier in April.
In regard to Dalia Lama, China had also categorically asked India to honour its solemn promises on Tibet-related issues.
"For some time, due to reasons known to all, the political foundation for China-India relations has been damaged, casting a shadow over bilateral relations and the boundary negotiations," China Foreign Ministry spokesperson Lu Kang said.
"What is imperative now is for the Indian side to take concrete actions to honour its solemn promises on Tibet-related issues as well as the important consensus reached by the two sides on settling the boundary issue, in particular never again using the 14th Dalai Lama to undermine China's core interests, so as to create a good atmosphere for greater mutual trust between the two countries and proper settlement of the boundary question," he added.
Earlier, with Beijing issuing a stern warning that the Dalai Lama's visit will have a "negative impact" on the settlement of the border dispute, India stated that its policy towards Tibet and border issue with China remained unchanged.
China is opposed to the Dalai Lama, who it regards as a separatist, visiting Arunachal Pradesh, particularly Tawang.
Meanwhile, India has repeatedly said that no political colour should be attributed to the Dalai Lama's Arunachal visit, which it described as religious and spiritual.
-ANI