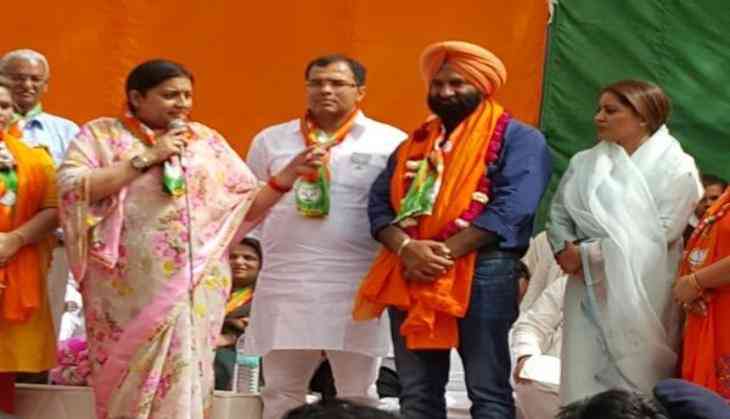 The final day of the election campaign for Rajouri Garden assembly constituency saw heavyweight leaders of the BJP-SAD alliance campaign for the combine candidate Mr. Manjinder Singh Sirsa.
Union Textiles Minister Mrs. Smriti Irani led the campaign battle by holding a road show and a public rally for Sirsa in the constituency.
Addressing the rally, Irani said Mr.Sirsa is struggling for the issues of the Sikh community since long, and when he met her for the first time after assuming charge as Union Minister, he had brought several issues before her.
She said that it was perhaps the hard work of Mr.Sirsa which has resulted in solving those issues which have been hanging fire for the last 30 years.
Lashing out at Delhi Chief Minister and AAP convener Mr. Arvind Kejriwal, Irani said that he was man who has betrayed the trust of the people and miserably failed to deliver on promises he made during the last assembly elections.
She said that AAP will meet the same fate here which it had met in Goa and Punjab.
Irani said similar will be fate of the Congress party which was facing successive defeats in elections due to it wrong policies adopted during the UPA tenure and running government in Delhi. She said that on the other hand Prime Minister Mr Narinder Modi is guiding the BJP to successive wins only because of its pro poor and welfare oriented policies of the government.
Addressing a hugely attended rally in favour of Mr Manjinder Singh Sirsa Senior Member Parliament and Bollywood celebrity Mr. Paresh Rawal said that Mr Narinder Modi is leading BJP who is the known for his commitments and selfless service for the nation. On the other hand Mr Kejriwal has taken oath of his children that he will not enter politics but forgot the commitment when the time came for becoming Chief Minister.
He said that after becoming he started dreaming of becoming Prime Minister and went to Goa where he was duck out in the recently concluded assembly elections. He said that what happened to AAP in Punjab is known to everybody and these liars are now avoiding meeting public for their lies.
He urged the people to vote for Mr Sirsa to strengthen the hands of Prime Minister Mr Narinder Modi and said that after the victory the BJP-SAD alliance will ensure completion of works which have been stalled because of AAP government since last over years.
Meanwhile the SAD President and former Deputy Chief Minister of Punjab Mr Sukhbir Singh Badal also addressed a rally in favour of Mr Sirsa last evening. He said that more than 37 candidates of AAP lost their security deposits in recently concluded elections AAP was only able to get 21 percent share. He exuded confidence that AAP and Congress will face similar fate in this election in Delhi.
-ANI