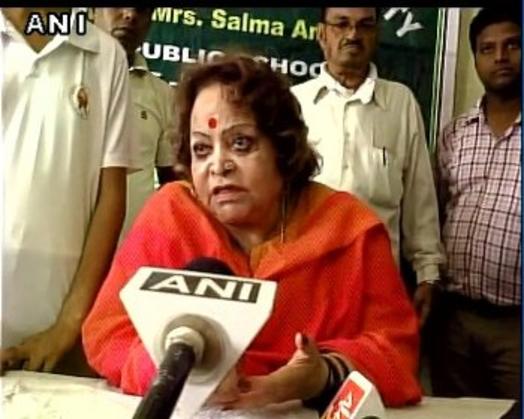 Responding to the ongoing controversy over chanting of Vedic mantras while performing Yoga, Vice President Mohammad Hamid Ansari's wife Salma Ansari on 23 May said that there is nothing wrong in saying 'Om'.
"Nothing wrong in saying 'Om', don't you say 'Allah' or God or 'Rab'? What is the difference? All must do Yoga. And when we pronounce 'Om' we get more oxygen," she said.
"Opposition to Yoga is totally wrong as chanting 'Om' improves health, I would have had few damaged bones if not for Yoga," she added.
Salma Ansari's comments come in the backdrop of accusations made by the Opposition, that the Centre was pushing its 'Hindutva' agenda by asking participants to chant Vedic mantras during the Yoga Day event.
The chanting of 'Om' and Vedic mantras has been included in the common protocol for celebrating International Day of Yoga on 21 June, triggering a controversy similar to what was witnessed when the event was held in 2015.
While the Ayush Ministry clarified the protocol is not compulsory, some political parties accused the government of pushing its Hindutva agenda by asking participants to chant Vedic mantras and 'Om' before the 45-minute session.
The Congress, however, criticised the BJP-led government for being `insensitive`, saying Yoga, a great discipline of ancient India, does not belong to the saffron party.
The JD(U) termed it as yet another attempt to "impose the communal agenda" on Indian masses.
--ANI