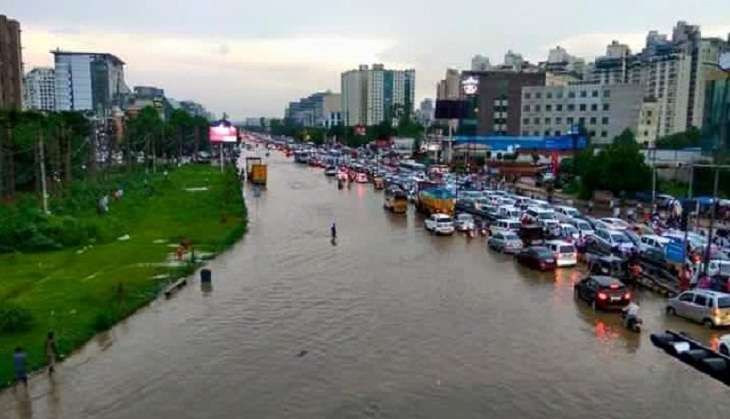 All hell broke loose in Gurugram, as monsoon showers brought traffic to a standstill on 28 July. Intense water-logging left roads leading to the Millennium City submerged, and choked up traffic on the Delhi-Jaipur highway.
In the wake of the chaotic situation in Gurugram, the District Magistrate has directed all schools in Gurugram to remain shut on 29 and 30 July, till the angry snarls clear out.
The Gurugram police has also directed commuters from Delhi to stay away, and to especially avoid taking Sohna Road and the National Highway.
Breakdown vehicles removed from Hero Honda Chowk on NH8 which is still flooded. Now allowing heavy vehicle to pass from there.

— Gurugram Police (@gurgaonpolice) July 29, 2016
29-Jul
People coming to Gurgaon from Delhi are advised to stay back today to avoid being stuck in Traffic Jams due to flooding on roads.

— Gurugram Police (@gurgaonpolice) July 29, 2016
Hero Honda Chowk on NH8 is reportedly at the centre of the traffic storm, as several vehicles broke down in the area from water-logging.
Hundreds of commuters have been stuck in traffic that has shown no signs of clearing out for over 10 hours. The highway is reportedly submerged, with water levels rising to over four feet in certain areas.