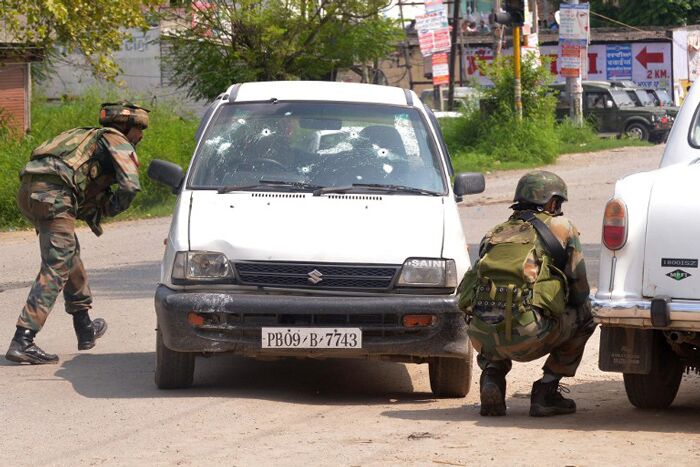 Gunmen dressed in army uniform attacked a police station in Gurdaspur, Punjab.
So far 6 people have been killed and at least 10 are injured in the terror attack and the encounter is still on.
Five live bombs were found at a railway track in Dinanagar, Gurdaspur which were defused later by the army.
According to media reports, a curfew has been imposed in Gurdaspur to ensure that the situation does not escalate.
In an early morning attack in Dinanagar, Gurdaspur district of Punjab, four gunmen dressed in army uniform opened fire at a police station, killing six and injuring at least 10 others.
The attackers came in a car and opened fire at the police station and a bus. They are currently holed up inside the police station in Dinanagar and the firing is still on.
According to reports, seven police officers' families families staying in nearby residential quarters have been held hostage. The gunmen are said to be heavily armed and are carrying automatic weapons with them, possibly AK-47 rifles.
Here are the latest developments
12 hours after the Gurdaspur terror attack, all terrorists have been killed and the search operation has started inside the police station.
Home Ministry officials to hold meeting with National Security Adviser Ajit Doval at 6 p.m. on 27 July to review the situation.
So far 3 civilians, 4 police personnel and 3 militants have been shot dead.
National Investigation Agency (NIA) officials have reached the Gurdaspur terror strike site.
Rajnath Singh will make a statement on the Gurdaspur terror attack on 28 July in Parliament.
Jammu and Kashmir SWAT team reaches the Gurdaspur terror strike site.
According to media reports 2 out of 4 terrorists have been shot dead.
Once the encounter is over, the Government will make a statement in the House, says Venkaiah Naidu.
On issues of terrorism the entire nation should speak in one voice, says Venkaiah Naidu.
National Security Guards (NSG) take over anti-terror operations.
Gurdaspur SP Baljit Singh killed in gunfight.
According to media reports, a curfew has been imposed in Gurdaspur and there is massive police presence in the north of Punjab to ensure that the situation does not escalate.
Other cities across India, including Mumbai, Pune, Nagpur, Nashik has been put on high alert as the terror attack continues to unfold in Punjab.
Speaking on Gurdaspur terror attack, RK Singh, former home secretary said "We have to think how Pakistan can be handled, the dialogues will not bring any changes."
Pathankot national highway closed, following the Gurdaspur terror attack.
Shiromani Akali Dal spokesperson Naresh Gujral denied that the state government had any prior inputs about the attack. "We suspect ISI is behind the attack. There seems to be no involvement of local terrorists."
Our intelligence needs to be revamped. Pakistan's ISI has been trying to link up the terrorist activity between Jammu and Kashmir and Punjab," says Lt General KS Brar who headed Operation Bluestar in 1984.
300 soldiers involved to combat the terrorists, aerial surveillance of the spot is also going on.
High-alert sounded in Jammu & Kashmir, along the Punjab-Rajasthan border and in Delhi following the Dinanagar terror attack.
The army has defused the recovered bombs found near the railway tracks.
"We are on the job, there is no hostage situation, it is a Punjab police commando operation," says Ishwar Sharma IG Border zone, according to ANI.
Prime Minister Narendra Modi has called for an emergency high-level meeting to discuss Gurdaspur attack.
Union Ministers Manohar Parrikar, Arun Jaitley & Venkaiah Naidu present in the high-level meeting.
Defence Minister Manohar Parrikar has said that counter insurgency and counter terror forces have been deployed to control the situation.
Some of the media has reported that one of the attackers has been killed in the anti-terror operations in Dinanagar.
Heavy exchange of firing has resumed between the security forces and terrorists.
Five live bombs have been found at a railway track not far from the Dinanagar police station, which is indicative of a well-planned attack intending to cause maximum damage.
Rail traffic between Dinanagar and Pathankot has been stopped, highways in the area have been sanitised and search operations are on.
Army commandos have taken over the situation in a bid to aid the police.
Government's reactions
Union Home Minister Rajnath Singh tweeted, "Spoke to CM Punjab Chief Minister Prakash Singh Badal who apprised me of the developing situation in Gurdaspur."
I can't understand why time and again cross border terror incidents are taking place when we want good relations with our neighbour: Rajnath
We will not be the first to strike, but if we are hit, we will give a befitting reply: Rajnath Singh.

Rajnath Singh says "We want peace with Pakistan, but not at the cost of national honour."
No terrorist group has taken responsibility of the attacks so far, however the modus operandi of the attack is similar to the ones that have taken place in Jammu and Kashmir in recent months.
Union Home Minister Rajnath Singh speaks to Punjab CM Parkash Singh Badal. "Spoke to DG BSF DK Pathak and instructed him to step up the vigil on India-Pakistan border in wake of the attack in Gurdaspur." he tweeted.
He said that "the MHA is monitoring the situation in Gurdaspur and Punjab, I am confident that the situation will be soon brought in control."
He tweeted "Also spoke to Home Secretary and the NSA regarding the situation in Gurdaspur, security forces have been rushed to the spot."
Political Reactions
Rahul Gandhi tweeted "Strongly condemn the terror attack in Gurdaspur, I hope the situation is brought under control at the earliest."
Omar Abdullah tweeted "The timing of the attack, methodology & location are all eerily similar to attacks in the border belt of Jammu 2/2."