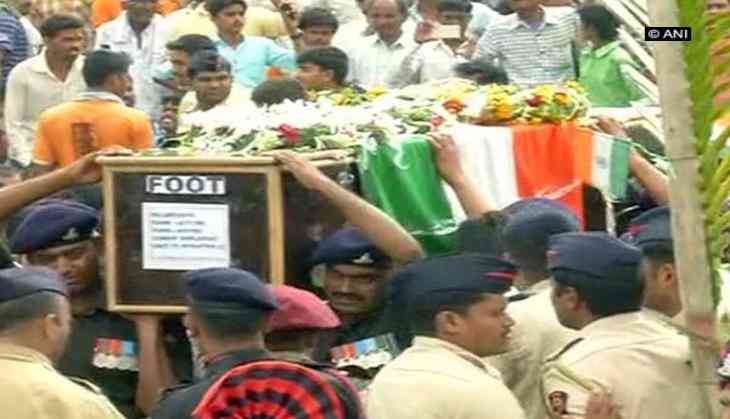 Shortly after the Kargil war, 1999, in which twelve soldiers hailing from Gujarat were martyred, Kathiawar's Patel community formed five trusts under the Jay Jawan Nagrik Samiti (JJNS), to provide financial assistance to their families.
Capitalizing on the patriotic sentiments of the local citizens of Surat, the Varachha Bank opened a savings account, in which money started pouring in. The families of the twelve Gujarati soldiers were honoured publicly and financial assistance was gifted to their next of kin.
Following the unfortunate earthquake in Gujarat in 2000, on a request from Brigadier B.S. Mehta (retd), former Vice Chancellor, Maharishi University of Management and Technology, Bilaspur (Chattisgarh), JJNS, extended support and financial assistance to 120 families of the Indian Air Force base at Bhuj, which had been completely wiped out.
Since then, JJNS has been holding a public function named Samarpan Gauarv Samaroh every year on/around Kargil Diwas, 26 July, to honour and gift financial assistance to next of kin of martyrs of the armed forces. Following this event held in 2016, JJNS had disbursed a total of Rs. 3.15 crore to 198 families of martyrs.
This year, for the Samarpan Gauarv Samaroh, held on 22 July, 2017, JJNS invited Gen. V.P. Malik, PVSM, AVSM (retired), the Army Chief during the Kargil War, to attend this function as its President. He was accompanied by his wife, Dr. Mrs Ranjana Malik, who headed the Army Wives' Welfare Association during Gen Malik's tenure as army chief and was quite involved with the welfare of war-widows.
The Guests of Honour were Rifleman Chandulal Babulal Chauhan, who had inadvertently strayed across the Line of Control and was repatriated after three months and Padma Shri Bipinbhai Girdharbhai Ganatra, Agnirakshak, a voluntary fire fighter from Kolkata.
The five chief guests were Mr Mahendrabhai S Patel, Collector, Surat, Mr Satish Sharma, Police Commissioner, Mr M Thannarassan, Commissioner, Surat Municipal Corporation, Brig B S Mehta (retd) and this writer.
The four special guests heading some of Gujarat's leading industries were Mr. Nanubhai K Savaliya , Sukhram Group, Mr. Manharbhai J Saspara, Euro Fresh Foods India Ltd, Mr Lavjibhai D Daliya, Anjani Group and Mr Maheshbhai Savani, Savani Group.
The Trustees of JJNS are Messrs. Kanjibhai R Bhalala, Chairman of the Varachha Bank, KD Vaghani, Devchandbhai K Kakadiya, Mavjibhai D Mavani, Devshibhai K Bhadiyadra, Mukeshbhai K Navadiya and Sureshbhai G Patel. Brig Mehta is an advisor to the JJNS and its Vyasthapak (organizer ) is Mr Bhikubhai Timbadiva.
What overwhelmed all the guests-families of martyrs and others- attending the four events over two days, was not just the warmth , hospitality and high regard accorded to them by all the various hosts and organizers, but also the spirit of patriotism and national pride, which was so evident. And what is particularly noteworthy is that a large number of very well-placed individuals and organizations have enthusiastically involved themselves by volunteering to take on various responsibilities and activities, devoting not only their time and effort, but also substantial amounts of money.
Every year the JJNS is approached by many industrialists and organizations to offer their sponsorship for the Samaroh and all connected events. While the Samaroh managing committee has 45 members, over fifty business houses and voluntary/philanthropic organizations were involved in looking after various aspects and responsibilities, like contacting, coordinating, receiving and escorting the guests as well as looking after their accommodation/comfort, transportation and any other requirements, till their departure.
Up to three to five family members of twenty two Army personnel and one from Central Armed Police Forces, martyred mostly in Jammu and Kashmir and some in the North East and some other locations, including the four Army personnel and one of Border Security Force, inhumanly mutilated by Pak army on 22 November 2016 and 01 May 2017, were invited, honoured and disbursed financial assistance totaling Rs. 46,00,000/- (46 lakhs).
The four events included a function at the Veer Narmad University, where a National Cadet Corps contingent presented a Guard of Honour to Gen. Malik, following which a large gathering of students met and honoured the martyrs' families and were addressed by Gen.Malik.
At this function, Mr Dileepbhai Bunha, Campus Director, SUV International School, made a spirited comment suggesting the raising of a Gujarat Regiment in the Army. Next was a visit to the Umiya Temple Trust, Varachha.
The main function on 22 July began after an early dinner, at 8.30 p.m., at Sardar Patel Smruti Bhavan, Sardar Chowk, Varachha Road, Surat and continued till past midnight. In the function, compered by Mr Kanjibhai Bhalala, each martyr's act of bravery was described before presenting a memento and the financial assistance amount to the family members.
The auditorium with a capacity of 1200 was more than full and for every martyr's account of valour, there was heavy applause.
In his address, Gen.Malik recalled a number of events/incidents during the three-month-long Kargil confrontation, including reading out the last letter written by posthumous Param Vir Chakra recipient Vikram Batra to his parents, with his wish "Yeh Dil Maange More"-more victories.
Over two more addresses at other functions, he shared many anecdotes about the gallantry of Army personnel during Pakistan's misadventure at Kargil. All the speeches by Gen.Malik and the other speakers were punctuated with spontaneous cheers and applause.
For the family members of the martyrs, attending the series of functions in Surat was a rare experience with a mix of emotions. On the one hand being reminded about the sorrowful loss of their loved ones and on the other, the feeling of pride at being honoured and rewarded.
But one reaction common to all of them was being overwhelmed by the warmth and cheering by their audiences. And also an unexpected pleasant surprise that there are people in India, who value so highly the sacrifices made by their deceased dear ones.
Lance Dafadar Swaran Singh (retd), the uncle of Naib Subedar Paramjit Singh of the Sikh Regiment, mutilated on 1 May 2017, could not help commenting that despite there not being many Gujaratis in the Army, Gujarat's public and business community had set an unprecedented example of patriotism and great pride in the country's armed forces.
He reflected the feelings and reactions of many other relatives/family members of martyrs attending the functions in Surat, who this writer interacted with. Awed by the arrangements, hospitality and public praise for the armed forces, many of the martyr's family members conveyed their appreciation and thanks for being invited for what they considered an unforgettable occasion.
In December, corresponding with Vijay Diwas, JJNS will organize a prayer recitation programme by Morari Bapu, renowned exponent of the Ram Charit Manas. The large collection of monetary offerings expected will be used for financial assistance to martyrs' families.
At a time in India when the bandwagon of leftists/pseudo-intellectuals/pseudo secularists/human rights activists, including some senior political leaders have politicized and even ridiculed patriotism and national pride, with some also crticising the Army's actions in Kashmir valley, it is a revelation and reminder of how these sentiments have been upheld with great spirit by the general public in Gujarat, led by a group of very prosperous but also large-hearted industrialists.
-ANI