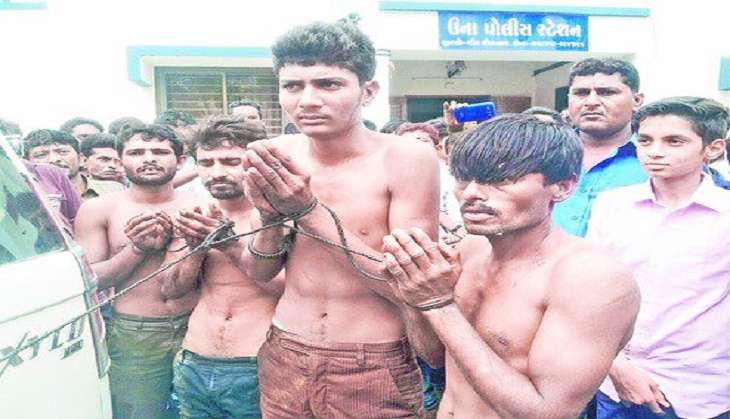 Gujarat's Saurashtra region was hit by violent protests on 18 July, with an angry mob demanding action against the men who allegedly thrashed members of a Dalit family at Una last week for allegedly skinning a dead cow.
Protesters furiously pelted stones, held rallies and torched buses, following which the police resorted to lathicharge to disperse the angry crowd.
According to the media reports, the community members also protested outside the District Collector's office with a dead cow. The protesters submitted a memorandum to the collector and demanded action against the culprits in the Una case.
Also Read: Gujarat's cow vigilantes don't love their Gau Mata, they just hate Dalits
According to reports, seven Dalit youths reportedly attempted suicide on 18 July at two places in Rajkot district of Gujarat to protest against the assault.
Rajesh Parmar, Ramesh Pardhi, Jagdish Rathod, Bharat Solanki and Anil Maghad tried to commit suicide by consuming poison near Dr Babasaheb Ambedkar's statue in Gondal, while Kishor Solanki and Amrit Parmar also tried to commit suicide in Jamkandorna. The two are said to be in a critical condition.
A CID probe in the incident has already been ordered by the Gujarat Chief Minister Anandiben Patel, who also announced that a special court would be set up for speedy trial of the case.
Also Read: Watch: 4 tannery workers stripped, thrashed for alleged cow skin possession
"The probe into the Una Dalits thrashing case has been handed over to CID (Crime). Also a special designated court will be set up for speedy trial of the case," the Chief Minister said in an official statement.
Dalit family assaulted
Seven members of a Dalit family were allegedly beaten up for skinning a dead cow in Mota Samadhiyala village of Una taluka in Gir Somnath district on 11 July. Four members of Bablu Sarvaiya's family were tied to a car and beaten with sticks and iron pipes. A video of the incident went viral, following which police took action.
Watch the video here:
On 13 July, Dalit protesters rallied in Una and blocked the main square. Accused Balvant Goswami, Pramodgiri Goswami were arrested late on 12 July. On 18 July, accused Bharat Jalamsinh Gohil was arrested along with a 17-year-old Muslim boy.
Inspector NU Zala and three constables have been suspended in connection with the incident, which has drawn widespread condemnation.