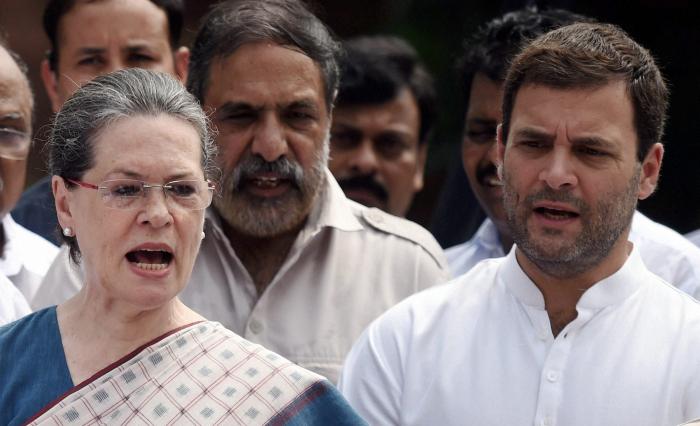 Congress
chief Sonia Gandhi attacked Prime Minister Narendra Modi for announcing the peace deal with Naga insurgents without taking the Opposition into confidence or consulting the other North East Chief ministers into confidence.
While protesting against the government and the suspension of 25 MPs of her party Sonia Gandhi raised the issue. She said that when she spoke to the chief ministers of other Northeastern states they drew a blank on the issue.
She said: "Naga peace accord may be historic but what about consulting the CMs of the states which are directly affected." "Here is another show of the arrogance of this government," she added.The Congress chief said, "He did not even think of taking into confidence our Chief Minister of Manipur, Assam, Arunachal Pradesh who are directly affected. We're actually shocked, that PM didn't even think of taking into confidence our CMs."
Narendra Modi government on 3 August signed an historic Naga peace accord with northeast-based insurgent group National Socialist Council of Nagaland - Isaac-Muivah (NSCN-IM).
The pact was signed in the presence of the Prime Minister, Home Minister Rajnath Singh and National Security Adviser Ajit Doval by the outfit's leader T Muivah and government's interlocutor R N Ravi at the PM's residence here.
The signing of the pact is the culmination of over 80 rounds of negotiations that spanned 16 years with first breakthrough in 1997 when ceasefire agreement was sealed.
While the NSCN-IM is the biggest Naga rebel group which has been maintaining the ceasefire, another faction led by S S Khaplang continues to indulge in violence and was believed to be behind the deadly attack on army in Manipur in June that left 18 soldiers dead and 18 injured.