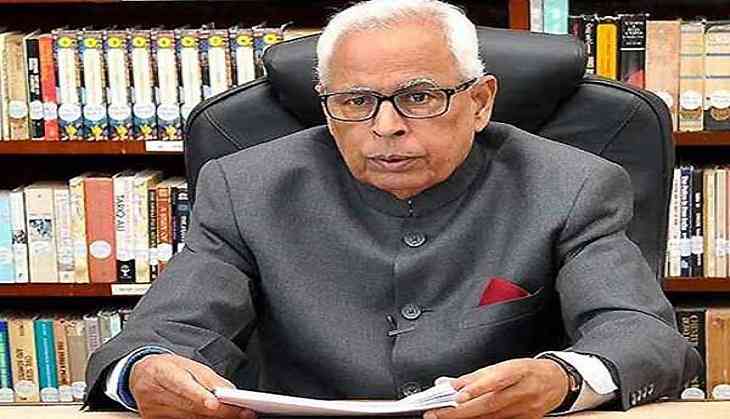 After receiving a nod from President Ram Nath Kovind on imposing Governor's rule in Jammu and Kashmir, NN Vohra will hold a significant meeting in Srinagar on Wednesday.
The officials belonging to the three areas like Security, Administration and Governance will attend the meeting headed by Governor Vohra will take place at around 2 pm at Raj Bhavan.
As accessed by ANI, the list of senior officials who will be present during the meet are -
- Lt Gen Ranbir Singh, Northern Army Commander
- BB Vyas, Chief Secretary
- Lt Gen AK Bhat, GoC 15 Corps
- SP Vaid, DGP
- Umang Narula, PS to the Governor
- Rajkumar Goel, PS to Government, Home Department
- Munir Ahmad Khan, ADGP, Home Guards and Security
- AG Mir, ADGP CID
- Rahul Rasgotra, JD IB
- Zulifiquar Hasan, IGP Operations, CRPF
- Ravideep Singh Sahi, IG CRPF
- Shyam Prakash Pani, IGP Kashmir
- Nitin Jeet Singh, Addl Commissioner, Special Bureau, Srinagar
The Governor's Rule in the state came into effect after Mehbooba Mufti resigned as Jammu and Kashmir's Chief Minister following the Bharatiya Janata Party's (BJP) exit from its alliance with the People's Democratic Party (PDP).
Earlier in the day, President Kovind approved the imposition of Governor's rule in Jammu and Kashmir, with an immediate effect.
Yesterday, Governor Vohra forwarded his report to the President of India for the imposition of Governor's Rule under Section 92 of the Constitution.
(ANI)