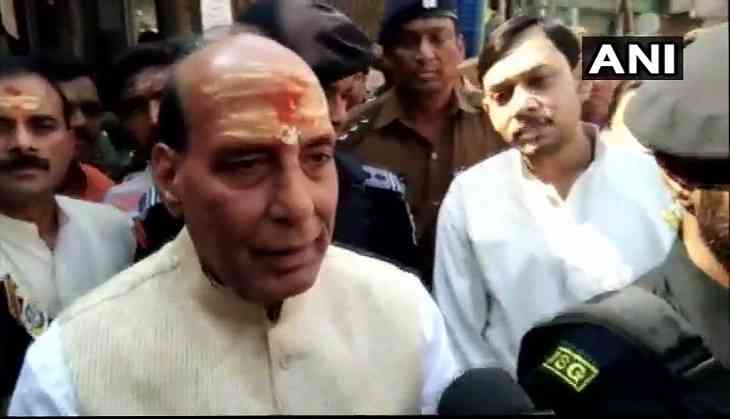 The BJP led NDA government has decided to build and develop the Kartarpur corridor from Dera Baba Nanak in Punjab till the international border.
The Modi government has also urged the Pakistan led Imran Khan's regime to build a similar corridor along the land up to the Gurudwara Darbar Sahib in Kartarpur. The Pakistan has earlier said that the building of the corridor will depend on whether India hold any dialogue or not.
The corridor is being built to facilitate the Indian pilgrims to visit the holy place in Pakistan of Gurudwara Darbar Sahib, which is situated in Kartatrpur, where Guru Nanak had lived for 18 long years.
Finance Minister Arun Jaitley tweeted, "Govt of India will develop a Kartarpur Corridor from Dera Baba Nanak in Gurdaspur, Punjab to the international border to facilitate pilgrims from India to visit the holy Gurudwara Darbaar Sahib Kartarpur on the banks of Rabi river in Pakistan where Guru Nanak Devji spend 18 years."
Home Minister Rajnath Singh today said that, "In landmark decision, Cabinet approves building & development of Kartarpur corridor from Dera Baba Nanak in Gurdaspur district to International Border. Kartarpur corridor project with all modern amenities and facilities to be implemented with Central Govt funding."
On the 550th Birth Anniversary of Guru Nanak Dev, Rajnath Singh had gifted several things to the state. He said, "States/UTs being requested to celebrate 550th Birth Anniversary of Shri Guru Nanak Devji in a befitting manner.Indian missions overseas to organize special events on the occasion. UNESCO to be requested to publish Shri Guru Nanak Devji's writings in world languages."
Also read: J&K political crisis: Amid Mufti's claim of forming the government, governor Satya Pal Malik dissolves
States/UTs being requested to celebrate 550th Birth Anniversary of Shri Guru Nanak Devji in a befitting manner.Indian missions overseas to organize special events on the occasion. UNESCO to be requested to publish Shri Guru Nanak Devji's writings in world languages: Home Minister pic.twitter.com/cBusrY7usi

— ANI (@ANI) November 22, 2018
In landmark decision, Cabinet approves building & development of Kartarpur corridor from Dera Baba Nanak in Gurdaspur district to International Border. Kartarpur corridor project with all modern amenities and facilities to be implemented with Central Govt funding: Home Minister pic.twitter.com/wQnkGaiGFl

— ANI (@ANI) November 22, 2018