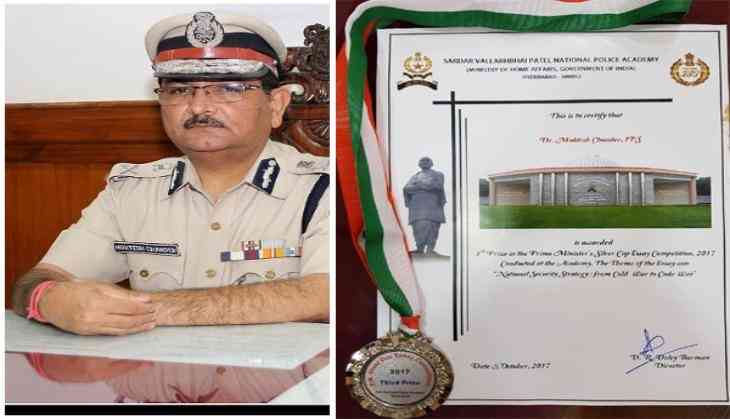 Dr. Muktesh Chandra, Director General of Police, Goa, has been awarded the 3rd Prize in the Prime Minister's Silver Cup Essay Competition 2017 Conducted at the Sardar Vallabhbhai Patel National Police Academy in Hyderabad.
The Theme of the Essay was National Security Strategy: From "Cold War to Code War".
Dr. Chandra is also a very talented flute artist and has mesmerized his audience on several occasions, especially Vande Matram.
He has also been awarded Police Medal for Meritorious Service Presidents Police Medal for Distinguished Service, Police Medal for Hard Duty, UN Service Medal and 50th Anniversary of Independence Medal.
Dr.Chandra joined Indian Police Service in 1988 and has remained posted to several places, including DIG Goa and Special Police Commissioner (Crime and Traffic Delhi) and IG Daman and Diu. He has served as Centre Director of the Cyber Division and the National Critical Information Infrastructure Protection Centre in the NTRO under Prime Minister's Office.
He has also served as United Nations Police Observer and monitored, trained and advised police in Bosnia and Herzegovina in Europe for one year.
He has written a number of articles on cyber crime and related topics which have been published in various journals and newspapers.
He was member secretary of the joint working group which formulated guidelines for the protection of the National Critical Information Infrastructure.
He is a graduate in electricals and telecommunications engineering from Delhi University and holds a degree in law from Delhi University, a diploma in cyber crime and a masters degree in criminology and forensic science.
He has done his doctorate information security management from IIT Delhi.
He has also done a hostage negation course at the Louisiana State Police Academy, USA, and the Law Enforcement Executive Development Course with the FBI, Los Angeles, USA.
-ANI