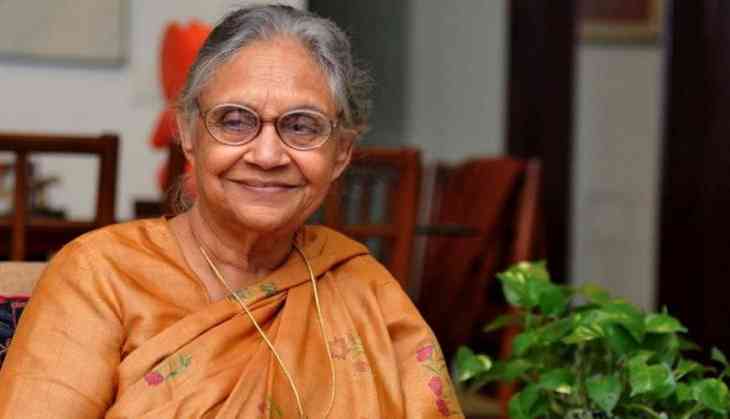 The saddening news has come out for Congress party as the former Delhi CM Sheila Dikshit has passed away today. She died at the age of 81 and she was fighting with a prolonged illness. She was admitted to Escorts Hospital today morning and the doctors declared her dead in few hours.
She was the longest-serving Chief Minister of Delhi and she served from 1998 to 2013, until current CM of Delhi, Arvind Kejriwal succeeded her. According to the media reports, Dikshit had cardiac arrhythmia (irregular heartbeat) and had to put on the ventilator.
Former Delhi Chief Minister & Congress leader Sheila Dikshit, passes away in Delhi at the age of 81 years. (file pic) pic.twitter.com/8rqv8qfnAQ

— ANI (@ANI) July 20, 2019
Congress Party tweets "We regret to hear of the passing of Sheila Dikshit. Lifelong congresswoman and as three time CM of Delhi she transformed the face of Delhi. Our condolences to her family and friends. Hope they find strength in this time of grief." pic.twitter.com/fCgYHiQalC

— ANI (@ANI) July 20, 2019
Dr Ashok Seth, Director, Escorts Fortis: #SheilaDikshit was managed well by a team of doctors. At 3:15 pm she again suffered a cardiac arrest. She was put on ventilator and at 3:55 pm she passed away peacefully

— ANI (@ANI) July 20, 2019
Deeply saddened by the demise of Sheila Dikshit Ji. Blessed with a warm and affable personality, she made a noteworthy contribution to Delhi's development. Condolences to her family and supporters. Om Shanti. pic.twitter.com/jERrvJlQ4X

— Narendra Modi (@narendramodi) July 20, 2019
Sheila Dikshit underwent heart surgery in France last year. Ashok Seth, chairman of Fortis Escorts Heart institute had advised former CM that the procedure be performed at University Hospital in Lille, France under the care of Dr Thomas Modine.