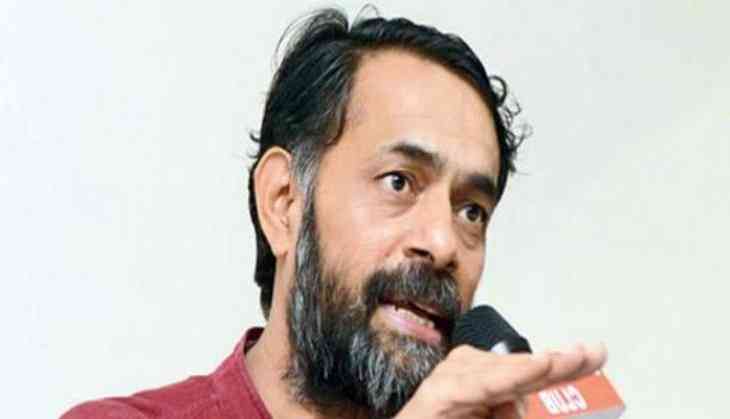 Former Aam Aadmi Party leader and founder of Sawraj India Yogendra Yadav was reportedly detained in Tamil Nadu's Tiruvannamalai district on Saturday when he was on his way to meet farmers who were protesting against a proposed Rs 10,000 crore eight-lane Salem-Chennai expressway.
Psephologist-turned-politician Yadav in his tweets alleged that he was manhandled and stopped from meeting farmers and his phone was snatched.
Informing about his detention through his tweet, he said "TN police has detained me and team in Chengam PS, Thiru Annamalai district. We came on the invitation of Movement Against 8Lane Way. We were prevented from going to meet farmers, phones snatched, manhandled and pushed into police van. First hand experience of police state in TN! (sic)"
However, the police said that it has detained Yadav for his protection as the situation could have turned volatile given the sensitivity of the situation and also the activist did not take permission to visit the farmers.
In his further tweets, Yadav said that he was arrested soon after he had conversation with senior district official about complaints of foced acquisition of land for the expressway and police excesses.
I had spoken to Mr Kandasamy, Collector, Thiru Annamalai about acquisition and complains of police excesses for 8 lane way. He completely denied any police interference. Within minutes of the phone call police detained us. https://t.co/KYrA0oHJ26

— Yogendra Yadav (@_YogendraYadav) September 8, 2018
Farmers including locals have been opposing the expressway over fear of losing land and environmentalists also opposed to cutting down trees for the project.
Earlier, actor-turned-politcian Kamal Haasan criticzed the Tamil Nadu government for arresting people protesting against the eight-lande expressway. He reportedly said "To treat anyone talking about environment as a crime is not acceptable. This concern should be there among all".
Also read: Sexual harassment charge against CPI(M) MLA; Kerala women commission chief refused to take action, says 'mistake do happen'