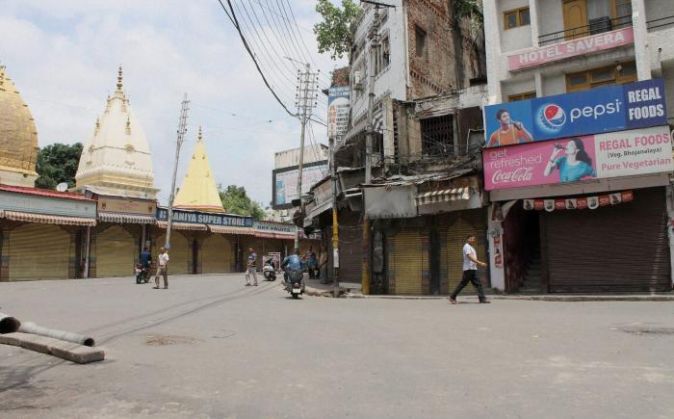 Jammu witnessed a shutdown for the fifth consecutive day on Tuesday as the agitation and protests led by the AIIMS Coordination Committee, demanding an AIIMS in the region, continued unabated.
Batting strongly for issuance of notification required as per AIIMS Act of 2012 to establish an AIIMS in Jammu region, the ACC threatened that the agitation will escalate further.
The chain hunger-strike resumed by the ACC here entered fortnight on Tuesday with over 40 persons taking turns to sit for the protest.
Business establishments, market places and shops generally remained closed and public transport remained off the roads in view of the bandh call given by the ACC which is spearheading the agitation. The bandh had begun on August 30.
However, in certain areas some shops reopened. People held protests by burning of tyres and effigies at several places and various roads in Janipur, Tawi brige, Gangyal, Jewel, Purani Mandi of the city.
Over 50 people have been arrested during the bandh period for defying restrictions and 30 of them have been bailed out, police said.
"The situation is peaceful. There were no reports of any violent incidents. Protests have been held at few places. Some areas also shops have reopened here", SP Jammu, Rajiv Pandey said.
Speaking at the strike venue, ACC Chairman and Jammu Bar Association (JBA) President, Abhinav Sharma charged BJP with using force, including police, to derail the agitation.
He accused the police of using "brute force" on ACC protestors by restorting to "cane charge and teargas shelling" and "breaking window panes of our vehicles by rods and sticks on the direction of BJP ministers".
"In case, the government continues to play dilly-dallying tactics with the sentiments of the people and does not come out forth with a notification required as per AIIMS Act of 2012 and declares establishment of AIIMS for Jammu, the agitation instead of dying down will further escalate leading to unimaginable consequences for the BJP", Sharma had said.
Sharma warned that ugly actions by the government and the unwarranted disruption of people's right to protest will boomerang for the BJP. "We are aware that the local leadership is of no consequence for the central leadership which has reduced them to mere rubber stamps..." Sharma said.
-PTI