Raza Naqvi
| Updated on: 12 August 2015, 14:11 IST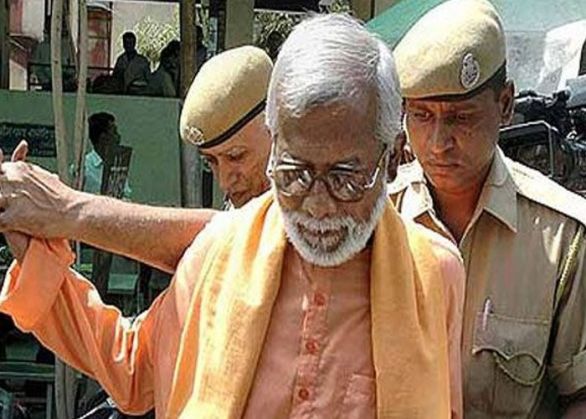 Swami Aseemanand was born Naba Kumar Sarkar in Kamarpukar, Hooghly district, West Bengal.
During his school days he was inducted into the Rashtriya Swayamsevak Sangh (RSS). In 1977, he worked fulltime as a 'pracharak' with the RSS organisation Vanavasi Kalyan Ashram (VKA), which worked for the welfare of tribal people.
In 1988, he moved to the Andaman and Nicobar islands to work with the VKA, where he constructed hut-type temples and installed idols of Lord Hanuman in remote areas.
In 1993, he moved to the VKA headquarters at Chhattisgarh, after which he moved to Gujarat where he constructed a Shabari temple in Dangs district.
Allegation and arrest
Aseemanand was accused of planning terror attacks on Ajmer Sharif Dargah and Mecca Masjid. He was also an accused in the Malegaon blasts and Samjhauta express bombings.
In 2010, the Central Bureau of Investigation (CBI) arrested Aseemanand for his involvement in the Mecca Masjid bombing and Samjhauta express blast. In 2011, he was indicted for planning the blast.
Mecca Masjid bombing
The Mecca Masjid bombing occurred on 18 May 2007 inside the mosque in Hyderabad. The blast was caused by a cellphone-triggered pipe bomb placed near the wuzukhana, a spot where ablutions are performed. Sixteen people were reported dead.
Samjhauta Express blasts
The terrorist attacks occurred around midnight on 18 February 2007 on the Samjhauta Express. Bombs were set off in two carriages just after the train passed Diwana station near Panipat. Sixty-eight people had reportedly been killed in the ensuing fire and dozens more were injured.
Most of the casualties were Pakistanis, while three Indian civilians and three railway policemen died.
Malegaon blasts
A series of bomb blasts took place on 8 September 2006 in Malegaon, a town in the Nashik district of Maharashtra. Over 37 people were killed and 125 people were left severely injured.
Ajmer Sharif Dargah blasts
The Ajmer Sharif blast occurred on 11 October 2007, outside the shrine of Sufi Khwaja Moinuddin Chishti, during the holy month of Ramzan.
The bomb had been concealed in a tiffin carrier. It claimed three lives and injured 17 people.
Shocking Revelations
In 2014, Swami Aseemanand claimed that RSS Chief Mohan Bhagwat was not directly involved with the terror strikes, but he had been aware that such attacks were being planned.
He alleged that Mohan Bhagwat not only knew about the plans for the Samjhauta Express and Mecca Masjid, but had even pledged his moral support for these deadly terror attacks.