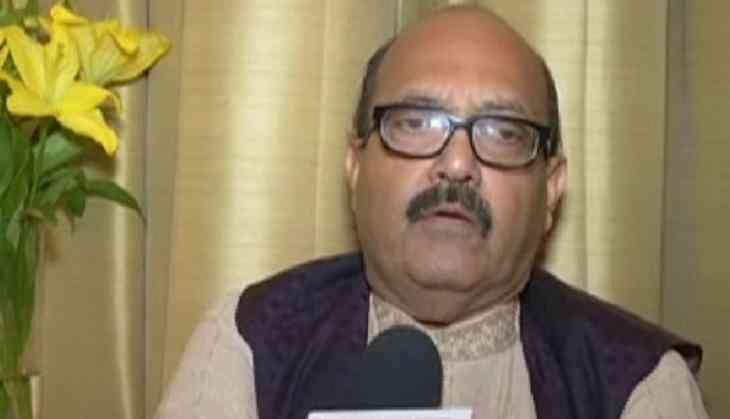 Rajya Sabha MP Amar Singh today said he had not left the Samajwadi Party but was thrown out of it.
Speaking to reporters here after meeting Governor Ram Naik, he said, "I had comprehensive talks with the governor. As a father figure, I told him everything and also gave him a memorandum, urging him to take it seriously."
Singh had accused SP leader Azam Khan yesterday of threatening his minor daughters with an acid attack and said he would meet the governor to seek security for them.
"Azam Khan calls me an opportunist. I do not know how I became an opportunist?" asked Singh, claiming he was given the Rajya Sabha ticket by the Samajwadi Party even despite staying out of it after his expulsion for the first time and never seeking any ticket.
He quoted SP patriarch Mulayam Singh Yadav as once having remarked that "Amar resides in (his) heart and not in the party."
Singh added that he was expelled for the second time by the SP president and Mulayam Singh's son Akhilesh Yadav.
"I had not left SP, I have not come out (from the SP), I was thrown out," he said.
Taking a dig at Azam Khan, Singh said he had not secured any post for his wife, brother or any other family member like Azam Khan, who "himself became a minister, his wife became a Rajya Sabha MP, his son an MLA and he (Azam), the chancellor of Mohammad Ali Jauhar University."
Singh said he would leave for Rampur, Azam Khan's pocket borough tomorrow "to present myself for sacrifice in front of Khan."
"Azam Khan is a bahubali (a person exercising tremendous clout) I am ready to sacrifice myself, if he is ready to sacrifice me. Tomorrow, I am not going to Rampur for any violence," said Singh.
(PTI)