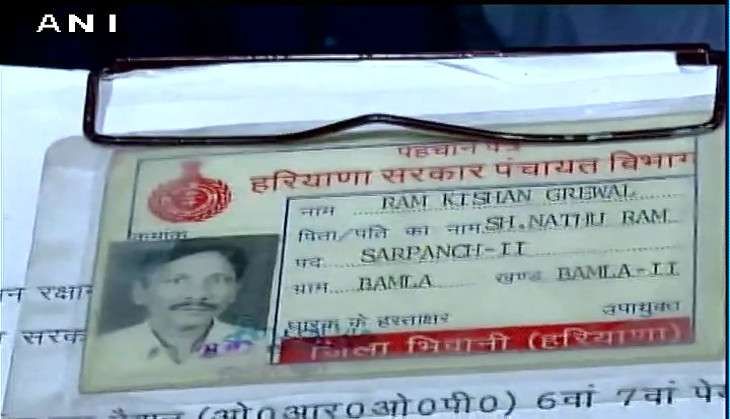 Ram Kishan Grewal, an ex-servicemen who was protesting the delay in implementing the One Rank-One Pension (OROP) has allegedly committed suicide in Haryana.
According to reports, Ram Kishan has left a suicide note saying he was committing suicide over the OROP issue. His son has told the media that Ram Kishan had called his family before committing suicide and informed them that he was taking the extreme step as the government has apparently failed to fulfill demands related to OROP.
Delhi Chief Minister Arvind Kejriwal is reportedly going to meet Ram Kishan Garehwal's family in Haryana.
#OROP Issue- Ex-serviceman Ram Kishan Garehwal suicide Note

last note says he did it for brave soldiers pic.twitter.com/djRpqDxuLC

— AAP In News (@AAPInNews) November 2, 2016
इसका मतलब प्रधानमंत्री जी झूठ बोल रहे हैं की OROP लागू कर दिया। OROP लागू हो जाता तो राम किशन जी को आत्महत्या क्यों करनी पड़ती? https://t.co/d9MPJjkf5A

— Arvind Kejriwal (@ArvindKejriwal) November 2, 2016
This comes days after Prime Minister Narendra Modi said Rs 5,500 crore has been paid for implementing the OROP scheme, an issue that has been hanging since the last 40 years.
The Indian Ex-servicemen Movement (IESM) and others have challenged the government's policy of periodic review of pension once in five years, saying such an approach was a dilution of the 26 February, 2014, announcement by which the revision in pension was to automatically pass on to the past pensioners on an annual basis.
They contended that five-yearly periodic review did not meet the demand of the ex-servicemen seeking OROP for the service personnel who had retired with same length of service in the same rank.
IESM in its petition has referred to the 19 December, 2011, report of Rajya Sabha's Petition Committee then headed by Bhagat Singh Koshyari which rejected all reservation advanced by the government while "strongly recommending" OROP.
In its 142nd report, the Koshyari Committee had said, "the Committee strongly recommends that Government should implement OROP in the defence forces across the board at the earliest".
--With Agency inputs