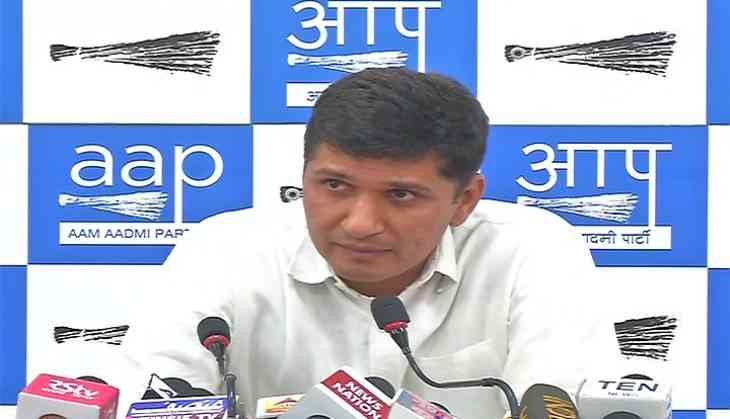 A day before the Election Commission's all-party meeting over the Electronic Voting Machine (EVM) row, the Aam Aadmi Party (AAP) on Thursday forwarded a new demand.
The Election Commission (EC) has invited leaders of seven national parties and 48 recognised state parties to the meeting to be held at the Constitution Club on Friday.
Addressing a press conference here, AAP Member of Legislative Assembly ( MLA) Saurabh Bhardwaj demanded an all party committee should be formed under the monitoring of the EC to ascertain whether EVMS were hacked in the recently held elections or not.
He claimed that it was very easy for the AAP's team of experts to prove whether the EVMs were rigged or not.
"The Election Commission has convened an all-party meeting tomorrow to clear doubts about the EVMs. But, we have a very easy formula for this. A committee comprising representatives of all parties and members of the EC should be formed in the monitoring of the EC. The experts of our (AAP) technical team will easily show to the committee that whether EVMs were rigged in the recent elections or not," said Bhardwaj.
Explaining how AAP's team would prove that EVMs were tampered with, he said, "We will ask every party to name any five booths where it suspects that the EVMs were rigged. We will ask the EC to provide us the EVMs of such booths. We ( AAP) have the expertise to prove whether those EVMs were tampered with or not," claimed Bhardwaj.
With a dummy EVM, Saurabh had claimed in the Delhi Assembly that it was very easy to tamper any EVM.
After Saurabh's demonstration, Delhi Chief Minister Arvind Kejriwal also claimed that in just 90 seconds an EVM can be tampered with by changing its motherboard.
Reacting to the demonstration, the poll panel said the machine used to conduct live demonstration was a 'look-alike'' which was made to function in a 'tampered' manner.
"It is common sense that gadgets other than ECI EVMs can be programmed to perform in a pre-determined way, but it simply cannot be implied that ECI EVMs will behave in the same manner because the ECI EVMs are technically secured and function under an elaborate Administrative and Security Protocol," an official release said.
"Such so called demonstration on extraneous and duplicate gadgets which are not owned by the ECI cannot be exploited to influence our intelligent citizens and electorate to assail or vilify the EVMs used by the Commission in its electoral process," it added.
-ANI