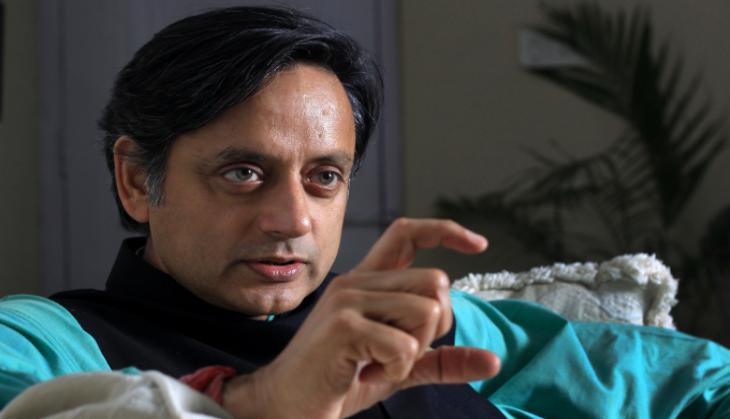 Hailing External Affairs Minister Sushma Swaraj's speech at the 71st session of the United Nations General Assembly (UNGA) on Monday, Congress MP Shashi Tharoor said the thrust of the message was "a good one and Indians can stand behind it".
Speaking to ANI, Tharoor said, "Like all MEA-drafted speeches, I think it was a well-drafted and well-crafted speech. There were a couple of interesting aspects to the speech that are worth bearing in mind.
Also Read: Here's full text of Sushma Swaraj's speech at 71st UNGA session
"The first that by speaking in Hindi, our Foreign Minister was appealing principally it seemed to the Indian audience and secondarily to a Pakistani audience because there would be no one in the hall apart from these two countries would have understood."
Also Read: Pakistan reacts to Sushma Swaraj's UNGA speech, says she disowned UNSC resolutions
He, however, said the direct message on television was clearly intended for the subcontinent.
"The balance of the speech was striking. It began with all the global issues and India's role in them and then situated the Pakistan problem in the context of the global challenge of terrorism. In other words, it is not just India's problem and it is part of the larger problem that the whole world is facing, and that I thought was a good strong message that India needs to give to the rest of the world, listing the various places that have been attacked by terrorists and saying that unfortunately India too, has been a victim of terrorism," he said.
Speaking on the response which the External Affairs Minister gave, the Congress MP said that it was "interesting".
"The statement that 'Kashmir hamara hai' was a bit unnecessary. It was clearly meant for the Indian audience. The more important message, I thought, was that as long as Pakistan wants to internationalise the Kashmir as a big issue, we have a far bigger issue to internationalise against Pakistan and that's terrorism. Pakistan's connection to terrorism is part of the message that I thought was the most useful for us to convey to the world," he said.
Speaking at the 71st session of the UNGA in New York, Swaraj today strongly pitched for cornering Pakistan over the issue of terrorism, saying countries that nurture, peddle and export terror should have no place in the comity of nations.
The External Affairs Minister said terrorism is the worst form of violation of human rights as it targets innocent people.
Taking a veiled dig at Pakistan, she said there are nations where UN designated terrorists roam freely and deliver their poisonous sermons of hate with impunity, an apparent reference to Mumbai attack mastermind and Jamaat-ud-Dawa chief Hafiz Saeed.
She also made a strong pitch for isolating such nations who speak the language of terrorism and for whom sheltering terrorists has become their calling card. The Minister called for united action from the world community to uproot the menace and demanded if any country does not becomes part of this strategy, it should be isolated.
In a strong rebuttal of the baseless allegations made by Pakistan Prime Minister Nawaz Sharif's from the podium of the General Assembly about "human rights violations" by India in Kashmir, Swaraj said he should first see what is happening in Balochistan, which is witnessing the worst form of state oppression. She asserted that Pakistan cannot snatch Kashmir from India by provocative speeches as it is an integral part of India and will remain so. The Minister said Pakistan must abandon its dream to obtain the territory it covets.
The Minister also rejected Sharif's remarks that India has placed pre-conditions for talks which are not acceptable to him. She said India has never set any condition for dialogues with Pakistan but has only tried to strengthen ties through friendly overtures. But in return it got Pathankot and Uri terror attacks.
-ANI