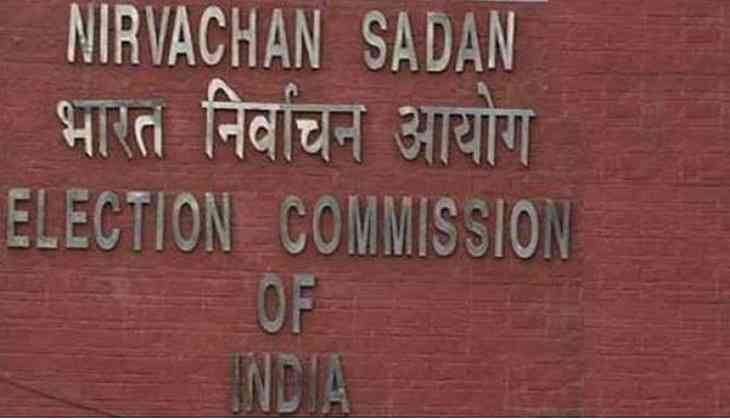 The Election Commission of India on Wednesday issued a public notice through the office of the returning officer, seeking nominations of persons for the election to the office of the President of India.
The notice hereby said-
• Nomination papers may be delivered by a candidate or any one of his proposers to the undersigned at his office.
• Each nomination paper shall be accompanied by a certified copy of the entry relating to the candidate in the electoral roll of the Parliamentary constituency in which the candidate is registered as an elector.
• Every candidate shall deposit or cause to be deposited a sum of rupees fifteen thousand only. This amount may be deposited in cash with the returning officer at the time of the presentation of the nomination paper or in a Government treasury.
• Forms of nomination papers may be obtained from the above said at the times aforesaid.
• The nomination papers, other than those rejected under sub-section (4) of section 5B of the Act, will be taken up for security at the said office.
• The notice of withdrawl of candidature may be delivered by a candidate, or any one of his proposers who have been authorized in this behalf in writing by the candidate.
• In the event of the election being contested, the poll will be taken on July 17, 2017 between 10 a.m. and 5 p.m. at the places of poling fixed under the rules.
With the date of nominating candidates for the upcoming Presidential polls inching closer, the Opposition parties are slated to meet at 4 p.m. here today to deliberate on the same.
As President Pranab Mukherjee's term comes to an end on July 24, the Presidential election will be held on July 17.
Earlier in May, Congress president Sonia Gandhi called on the leaders of the Opposition to build a consensus on the Presidential nominee.
Leaders of 17 parties namely JD (U), CPI, CPI-M, SP, DMK, NCP, RJD and TMC, besides some other big and small regional parties attended the meeting.
While Bihar Chief Minister Nitish Kumar indicated his support in favour of Pranab Mukherjee if he secured a second term as the President, the Congress so far has been non-committal on a second term for him.
Contrary to this, the Shiv Sena, an ally of the Bharatiya Janata Party ( BJP) in Maharashtra had proposed RSS chief Mohan Bhagwat's name as the National Democratic Alliance's candidate for the country's top constitutional post earlier too
The Election Commission said the last date of nomination is June 28 and the counting of votes will be taken up on July 20.
President Mukherjee will demit office on July 25 and Vice President Hamid Ansari will complete his second tenure in August.
The President is elected through an Electoral College that includes national and State legislators.
Currently, there are 13 vacancies in the Electoral College.
As many as 21 AAP MLAs are also eligible to vote.
-ANI