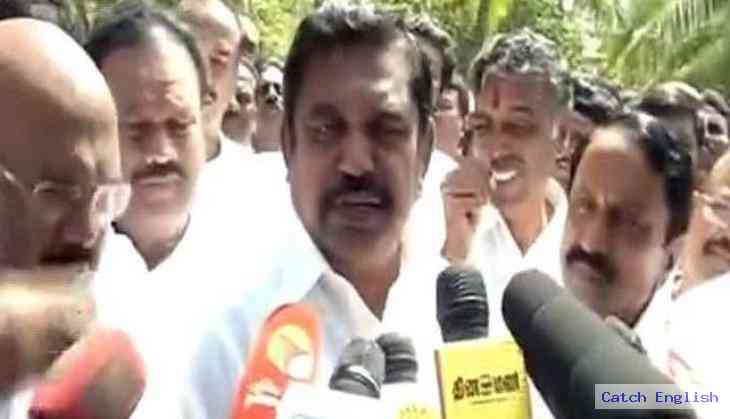 Tamil Nadu Governor Ch. Vidyasagar Rao has given appointment to AIADMK legislature party leader Edapadi K. Palanisamy to discuss government formation in the state.
The move came hours after he was declared the legislature party leader by AIADMK general secretary V. K. Sasikala following her conviction by the Supreme Court in the disproportionate assets case.
Palanisamy, who is expected to meet the Governor at around 5: 30 p.m. along with the other AIADMK MLAs backing Sasikala, will stake claim to form the next government in the state.
Addressing the media earlier this afternoon, Palanisamy said that he was eagerly waiting for the Governor's invitation, adding that the party's priority at the moment is to form a government that follows the footsteps of late chief minister J. Jayalalithaa.
"Minister Dindigul Srinivasan chose me as the leader of the AIADMK party in the meeting after which all the MLAs unanimously elected me. In order to form a government which follows the path shown by Amma, we have sent a letter to the Governor and are eagerly waiting for his invitation," Palanisamy said.
"I would also reiterate that Chinnamma also accepted me as the leader of the party," he added in a bid to end all speculations.
Earlier today, the apex court upheld the trial court's verdict that sentenced Sasikala to a four-year jail term her in the 19-year-old disproportionate assets case.
Late chief minister J. Jayalalithaa was accused in the case along with Sasikala and two others.
A bench of Justices PC Ghose and AK Roy directed them to surrender forthwith to the trial court in Bengaluru and serve the remaining part of the four-year-jail term.
Sasikala cannot contest the elections for the next 10 years. The bench, however, abated the appeal proceedings against Jayalalithaa owing to her death.
Hours after the verdict, Sasikala expelled 20 other leaders including caretaker Chief Minister O. Panneerselvam from the party.
Meanwhile, Panneerselvam has appealed to all the AIADMK MLAs and cadres to unite together in the prevailing situation to continue the works left by Jayalalithaa.
He has also asked his party cadres not to fall into the ploys of the opposition that tries to create division in the AIADMK.
-ANI