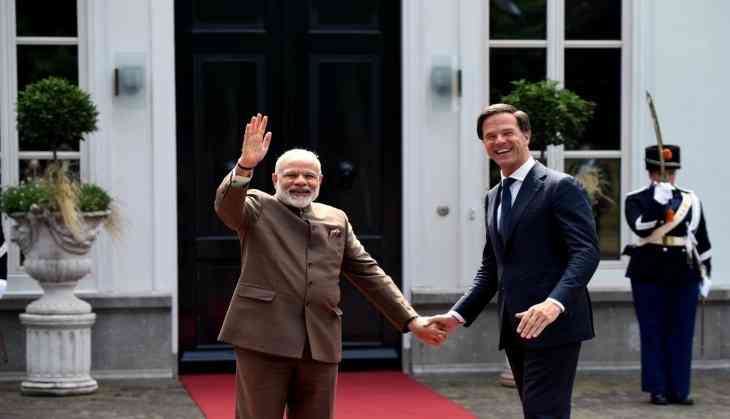 Dutch PM Mark Rutte Tweets PM Modi
As Prime Minister Narendra Modi wrapped up his three-nation tour on 28 June which culminated at The Hague on Tuesday, Dutch PM Mark Rutte gesture to his Indian counterpart is making headlines.
One thing that stood out was Rutt's tweet to PM Modi in Hindi. His tweet - thatseems to have no political connection at all - later went viral on social media.
Dutch PM Mark Rutte tweet:
नीदरलैंड्समेंआपकास्वागतहै @narendramodi भारतऔरनेदेरलैंड्सके 70 सालकेद्विपक्षीयरिश्तेकेसाथमैहमारीबैठककेलिएबहुतउत्सुकहूं

— Minister-president (@MinPres) June 27, 2017
"Welcome to the Netherlands @narendramodi Our bilateral relations go back 70 years and with that I am extremely excited about our meeting," reads the tweet, roughly translated.
He has also gifted a bicycle to PM Modi during the latter's day-long visit to The Netherlands on Tuesday.
PM Rutte with a big smile on his face was also seen standing beside PM Modi when he was riding the bicycle.
Thank you @MinPres @markrutte for the bicycle. pic.twitter.com/tTVPfGNC9k

— Narendra Modi (@narendramodi) June 28, 2017
Thank you @MinPres @markrutte for the bicycle. pic.twitter.com/tTVPfGNC9k

— Narendra Modi (@narendramodi) June 28, 2017
Rutte's Tweet got mixed reactions on Twitter. Here are some Tweets:
Ye le.. pic.twitter.com/5JXBgkWd1b

— Adil (@Adilogics) June 27, 2017
KoiJoMilaToMujheAisaLagtaThaJaiseMeriSaariDuniyaMeinGeetonKiRutAurRangonKiBarkhaHaiKhushbooKiAandhiHai#ShankarRutteMahadevan https://t.co/fqzQimZ2u8

— Advanced Maushi (@AdvancedMaushi) June 27, 2017
News: Narendra Modi has serious personal space issues.
Dutch PM: Well, we won't give him any space 😂https://t.co/3J3OM5STPB

— Cryptic Mind (@Vishj05) June 27, 2017
its Neitherland, that means no land or space😅

— Srivasy (@srivasy) June 28, 2017
This is the guy who speaks MutualFundsAreSubjectToMarketRiskPleaseReadTheOfferDocumentsCarefully https://t.co/wZpp6jvLNx

— Mohit 🚢 (@sailorsmoon) June 27, 2017
Soo overwhelmed Minister President, nice initiative to remove all space between the two countries. 😳❤

— Lazy Cat 'न' (@uPoliticat) June 27, 2017
At least.. he tried.. it's more than enough to appreciate..

— Yash Modi (@ymodi95) June 27, 2017
https://t.co/kDUo2YqszT
Thank you Mr.President for this lovely tweet🙏🏻

— Meenakshi Sharan (@meenakshisharan) June 27, 2017
Such a sweet gesture by #Netherlands ministry by typing it in hindi

— Swapnil Pandey (@swapy6) June 28, 2017
However, later Dutch PM Rutte posted another tweet with all the spaces in place:
नीदरलैंड्स में पधारने के लिए धन्यवाद @narendramodi हम आने वाले वर्षों में हमारे सतत सहयोग के लिए तत्पर हैं। pic.twitter.com/bi9EzwQQTt

— Minister-president (@MinPres) June 27, 2017