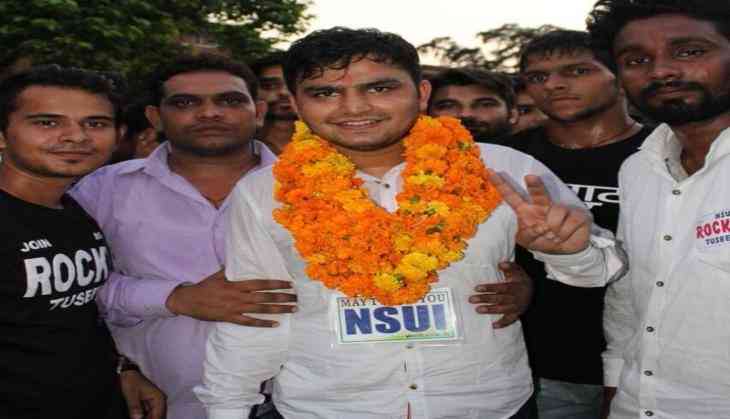 DUSU election 2017: Setback to ABVP, NSUI makes comeback after 5 years
Almost after five years, the student wing of Indian National Congress, National Students' Union of India (NSUI) has clinched 3 out of 4 posts including President's post in Delhi University Students Union (DUSU) elections of this year.
Congress-backed National Students Union of India (NSUI) has made a stunning comeback by winning the top posts of president and vice-president in the DUSU elections.
In the election results which were announced on Wednesday, RSS-backed Akhil Bharatiya Vidyarthi Parishad (ABVP) had to satisfy with secretary and joint secretary positions.
NSUI's Rocky Tuseed won the president's position by defeating ABVP's Rajat Choudhary with a margin of 1,590 votes, while new vice-president Kunal Sehrawat snatched the seat from ABVP by 175 votes.
ABVP's Mahamedha Nagar defeated NSUI's Minakshi Meena by 2,624 votes to win the post of secretary while Uma Shankar set aside NSUI's Avinash Yadav by 342 votes.
NSUI, who won the president position after 2012, expressed the happiness on Twitter after the overwhelming victory.
This mandate is a clear indication that student fraternity have restored their faith in @INCIndia & our beloved leader Sh.@OfficeOfRG (2/4)

— NSUI (@nsui) September 13, 2017
Congress vice-president Rahul Gandhi hailed the Congress ideology and congratulated the union on Twitter.
Congratulations @nsui on a stellar performance & Pres win in DUSU! Thank students of DU for reposing faith in Congress ideology #NSUIWinsDU https://t.co/amUF6owutt

— Office of RG (@OfficeOfRG) September 13, 2017
Amidst the elections, the interesting angle that emerged was that of NOTA, which was pressed more than 5,000 times in president's election.
-With ANI inputs.